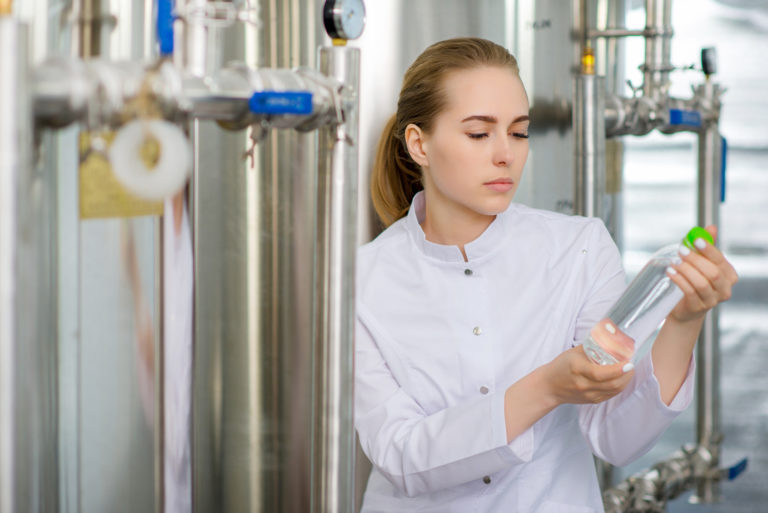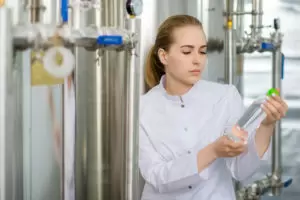 Water Quality Specialists take samples from water bodies to ensure that they reach minimum safe levels for public and environmental health.
What Does a Water Quality Specialist Do?
Water is a vital resource that deserves and requires protection for both human health and ecological stability. This type of specialist worker understands the properties of water and pollutants that might damage an ecosystem (either human-generated pollutants or natural elements that might cause damage). Their role is to measure the attributes of these substances and then work with guidelines or legal standards concerning characteristics of the water - either physical, biological matter or chemical reactions. They may work in the field taking samples and monitoring known problems, or they may study water for academic purposes or a matter of routine (to ensure compliance). They can also work for and with government to aid decision making regarding water usage.
Not just pollutants affect water quality. Environmental change can also alter the chemical or geological makeup of a river or lake, especially extreme weather such as flood or drought. Water Quality Specialists study the natural ecology of water resources to examine how such processes occur, and examine their impacts. They are a type of Environmental Compliance Inspector.
Where Does a Water Quality Specialist Work?
There are no firm statistics for this type of role; for classification purposes, they are considered Environmental Specialists. According to data collected in 2015, the major work sector of this type of employee is management, scientific and technical consulting services (23% of those qualified in the field). These individuals work as freelance or on a contract basis in a small team carrying out studies of water - either for government or privately owned resources.
The next largest area of employment is state government (22%) and the third is local government (13%). In both cases, these employees will carry out tests and studies on water bodies to ensure that they reach minimum standards on public health and water safety. They will look for pollutants and natural changes. Should a company or organization be subject to legal action, they may be on hand to offer expert advice in the prosecution. 6% work for Federal government for such agencies as the EPA, NOAA and the NPS.
10% work for engineering services, monitoring to ensure that public works and private development comply with standards and regularly monitor water bodies to ensure that no toxic substances have made it into the public water system.
Water Quality Specialist Jobs & Job Description
Recent water quality specialist Job Listings
Use the search box below to find all the water quality specialist job listings in our job board.
An aspiring water quality specialist will need a background in chemistry and hard sciences as well as experience performing sample testing. The job description for a water quality specialist at the beginning of his or her career will likely include the following tasks:
Perform water system quality assurance and operation functions
Inspect, install, service and repair backflow, cross-connection and other water delivery controls
Construct, maintain, repair and inspect water production wells and facilities, water mains and lines
Operate water system quality assurance and operations equipment and other tools
Inspect and test water, controls and water system tools and equipment for safety and mechanical defects
Assist in installation and repair of water system connections and meters
Collect data, and maintain records, logs and reports
Recognize occupational hazards and follow safety precaution procedures
Insure quality assurance programs, testing and analysis is conducted within safety standards
A water quality specialist who has worked for several years will likely add management and oversight duties to his or her job description, include:
Answer inquiries from the public and respond to water quality complaints
Establish and implement water sampling operations and procedures
Assist in the planning and implementation of various public education programs related to water quality, and make presentations to community groups and associations
Coordinate and inspect the work of a variety of contractors related to water quality projects
Prepare technical reports and presentations for city councils and other government agencies
Set priorities, exercise independent judgment and communicate effectively both orally and in writing
Establish and maintain effective working relationships with fellow employees, members of the general public and representatives from other government agencies
<!- mfunc search_btn -> <!- /mfunc search_btn ->
What Is the Average Water Quality Specialist Salary?
Water quality specialists, who fall under the broader BLS category of environmental scientists and specialists, earned a median salary of $75,950 as of May 2020. The lowest 10% earned in the region of $46,830, and the highest 10% earned more than $118,280. Federal government was by far the highest paying sector with a median salary of $102,390.*
What Is the Job Demand for Water Quality Specialists?
As water quality is vital to quality of life, BLS expects that demand for all environmental specialists (including water quality specialists) to increase by some 7% in the years between 2020 and 2030.* Environmental protection - both Federal laws and international standards - have grown in the last decade. A growing commitment to water quality and the understanding of how important this is to public health and ecological well-being means that this could be a stable employment area.
What Are the Education Requirements to Become a Water Quality Specialist?
As this is a scientific subject, high school students should aim to achieve high grades in the scientific subjects - typically chemistry, biology, math and physics. This should put students on a good footing to study degrees relevant to their intended careers. Once at college, the student will find there is a wealth of degree options relevant to this type of role. Typically, students will study chemistry, biology, ecology or geography and take supporting minors and electives in relevant subjects such as geology or environmental science. Most geoscience degrees and related programs will be suitable for entry level jobs and most students will not require further study. Where available, the student should take data modeling and GIS related supporting minors as these technological tools will feature more commonly in analysis roles in future.
However, should the student seek more responsible roles or those with greater independent project work or research, it is strong advisable to study a master's degree. The student should take similar degree programs at masters level that they took at bachelors level. Masters do permit greater option to study in a niche, so if a program seems more relevant than a general masters program (environmental toxicology would be a great follow up to chemistry or environmental science degree). Again, the student should seek to further their studies of ecology and develop their data modeling and GIS skills.
Doctorates are suitable for academic research and teaching, but also for high-level decision making and policy roles in government. Students seeking responsible roles in such government bodies as the EPA may find their career prospects enhanced if they have a doctorate.
Water Quality Specialist - Related Degrees
<!- /mfunc search_box_body ->
What Kind Of Societies and Professional Organizations Do Water Quality Specialists Have?
Water quality is vital across the world. Here are some governing bodies and relevant resources.
Water Quality Association: This global organization works with some 2,500 partners around the world promoting water quality for residential, commercial and industrial use. They are also responsible for certifying WQ professionals.
American Water Resource Association: With water security as much an issue as quality (with droughts and floods becoming more common) AWRA wishes to be recognized as the country's most important body for information exchange regarding water quality
*2020 US Bureau of Labor Statistics salary figures and job growth projections for environmental scientists and specialists reflect national data not school-specific information. Conditions in your area may vary. Data accessed September 2021.
<!- mfunc search_btn -> <!- /mfunc search_btn ->