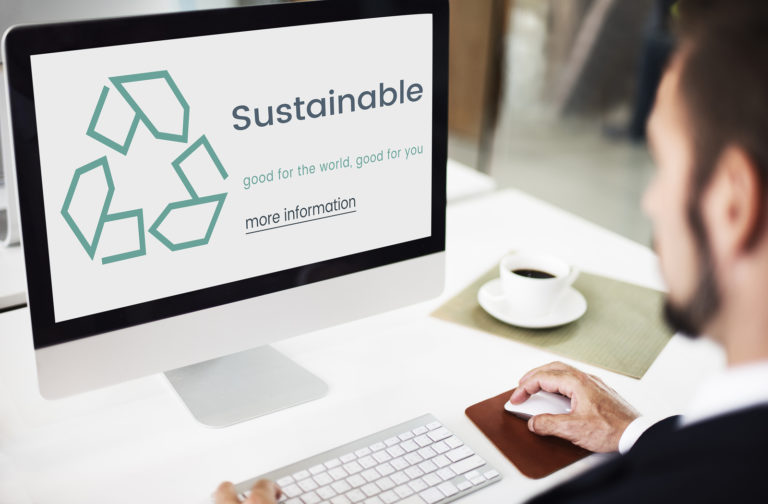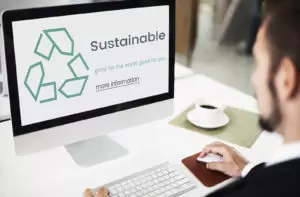 A Sustainability Program Coordinator implements plans of actions based on policy to improve an organization's sustainability.
What Does a Sustainability Program Coordinator Do?
Sustainability is a concept and a goal for organizations, but to attain it requires professionals whose job it is to change direction in certain areas. Directors decide policy while lower-level employees simply act in accordance with the wishes of senior management. In the middle, there are coordinators whose job it is to design and implement programs for lowering environmental impact. They will use a wide variety of resources, technologies, systems and get involved in such areas as procurement and organization to press the need to reduce carbon footprint. They may have some low-level decision-making but will largely work in an advisory capacity for senior decision makers.
Duties will vary depending on the size of the organization and their industry, but they typically work as a go-between linking different departments to achieve their sustainability goals. Such projects require cooperation and for individuals and departments to help each other out. They may also require some promotional or marketing skills, designing awareness campaigns about policy changes, even when dealing with issues internally only. When dealing with the public, they may fill part of the role of Public Relations and awareness raising of the actions of the organization. This means an understanding of social media outreach, some website updates (intranet and internet) and publishing columns in newsletters. Due to the part marketing and part awareness raising of their role, some of the tasks may overlap with environmental psychology.
Where Does a Sustainability Program Coordinator Work?
No specific data exists with BLS or any other body to show where Sustainability Program Coordinators work and who is employing them, but for classification, they are regarded as Business Project Coordinators. According to BLS, these professionals were employed in the following industries in the greatest numbers.
Federal government employed 166,950 individuals with this type of job role. The federal government is required to abide by rules set down by the EPA and other authorizing bodies and lead by example for the rest of the country. Sustainability can also lead to substantial cost saving for the taxpayer. Fourth highest is state government with 44,500 working in this area, fulfilling many of the same roles as their Federal counterparts.
The private sector is the second highest employer with 64,730 according to 2016 data released in 2017. Sustainability is linked to many issues including cost saving, legal requirement and public perception.
Education employs the third highest number at 54,600. Colleges and universities are one of the major public faces of government but also aim to work for financial efficiency as well as public perception of their actions. At the forefront of research, they are often leaders in this area.
Fifth highest was technical consulting, often working on a freelance or consultancy basis, advising organizations on how they can improve their sustainability.
What Is the Average Sustainability Program Coordinator Salary?
Sustainability program coordinators, who fall under the broader BLS category of social and community service managers, earned a median salary of $69,600 as of May 2020. Local government was the highest payer for these professionals at this time, reporting a median salary of $87,720.*
Sustainability Program Coordinator Jobs & Job Description
Recent sustainability program coordinators Job Listings
Use the search box below to find all the sustainability coordinator job listings in our job board.
A sustainability program coordinator supports the implementation of sustainability programs across an organization or on various projects. Job tasks may vary depending on the hiring company, but can include:
Work with project managers to support the development and implementation of sustainability programs and design guidelines
Support in the execution of LEED, WELL and Living Building Challenge certification processes
Perform drawing, specification and submittal reviews to ensure compliance with project sustainability requirements
Assist with healthy and sustainable materials research and project vetting
Participate in project meetings and site visits
Support multiple projects in varying stages in the design and construction or production process
Provide research support to project managers on sustainable design and strategies
Attend industry seminars, events and conferences to remain informed about industry trends
Create, update and improve internal process templates
Develop, publicize, collaborate and document progress on sustainability standards, policies and priorities for the organization
Engage the organization to build consensus on sustainability efforts: identifying short and long term goals, analyzing risk and evaluating performance
Prepare reports on sustainability goals and achievements, and assist in development of corporate responsibility reports
<!- mfunc search_btn -> <!- /mfunc search_btn ->
What Is the Job Demand for Sustainability Program Coordinators?
The job demand for social and community service managers like sustainability program coordinators is projected to increase by 15 percent between 2020 and 2030.* Sustainability is likely to reflect this, if not become higher in the next few years, as businesses adopt a more practical approach to sustainability. As the manufacturing of green technology increases, particularly in energy production, we can expect a sustainable level of employment for this type of role.
What Are the Education Requirements to Become a Sustainability Program Coordinator?
High school students who wish to become a Sustainability Coordinator will require a degree. Science would be helpful but it is not vital. Geography with a particular focus on green issues will certainly help your application to college. You will need strong IT skills and communication, so a good grade in English Language will be beneficial. As this is a business management role, you will certainly need math.
There is a range of suitable degree options, particularly Sustainability and Environmental Studies. These are the most obvious choices but there are others. When choosing one of these non-business degrees, your minors and electives should cover improving your IT, and presentation and communication skills. Marketing may be useful for some industries, as will anything related to Public Relations or Business Management. Relevant business degrees include Sustainability and Compliance MBA, Environmental Planning & Design and Environmental Sociology for its utilization and understanding of human psychology. Even a degree in psychology may be useful.
In most cases, you will not require a master's degree beyond the MBAs listed here. These are reserved for research roles, those with considerably higher responsibilities and those that need in-depth knowledge. A doctorate is also not required.
Sustainability Coordinator - Related Degrees
<!- mfunc search_box_body ->
<!- /mfunc search_box_body ->
What Kind of Societies and Professional Organizations Do Sustainability Program Coordinators Have?
There is no doubt that sustainability is growing. Therefore, there are many choices of organization that have formed to provide networking and information sharing opportunities for professionals in this area.
Sustainability Management Association: Formed in 2012, it brought together a wide range of industries and professionals from government bodies to create a certification and examination process
*2020 US Bureau of Labor Statistics salary figures and job growth projections for social and community service managers reflect national data not school-specific information. Conditions in your area may vary. Data accessed September 2021.
<!- mfunc search_btn -> <!- /mfunc search_btn ->