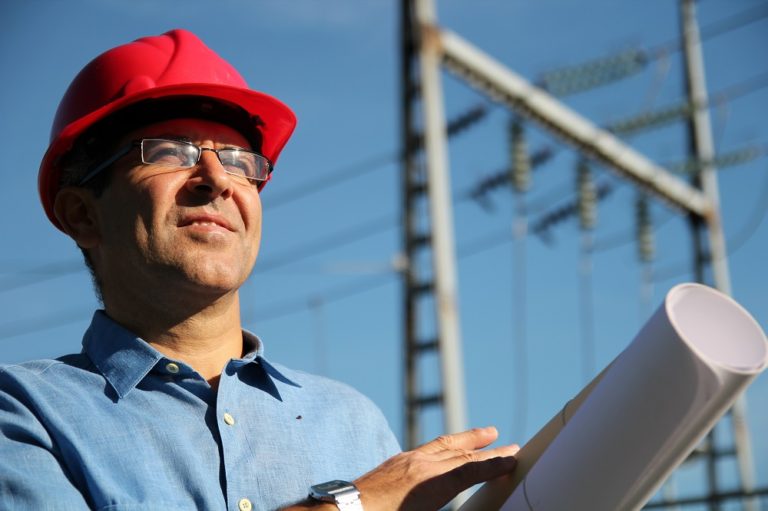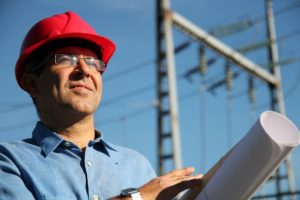 Power Transmission Engineers plan and develop new routes for delivering energy from source to homes, businesses and public spaces.
What Does a Power Transmission Engineer Do?
Using a multidisciplinary approach, Power Transmission Engineers plan routes for power transmission. As our need for residential, commercial and industrial space increases, so does the need for more energy. It is the job of a Power Transmission Engineer to deliver that energy from the source (a power plant or junction) to service user (home, factory, street lighting, public buildings and so on). They will need to plan the route, but it is not just about delivering power efficiency along the shortest possible route(s). They will need to understand environmental law to ensure the development does not encroach on protected land, planning a route accordingly.
They will also need to examine maps and GIS files to ensure that the topography is suitable for the new power system. They may need to conduct their own survey to pick up all relevant information. Also, they will need to check for phone lines and other utilities to ensure that these systems do not clash. They will look for environmental issues, potential engineering safety hazards, logistical problems and ensuring maximum efficiency from the finished product.
They may also be on site during a building phase to watch out for potential problems that may not have been obvious during the research phase. The role is a mix of office based research and reporting and construction supervision.
Where Does a Power Transmission Engineer Work?
Power Transmission Engineers are a type of Civil Engineer, using the same methods and data for their projects. According to 2014 statistics some 46%, that is nearly half, work in private engineering services. Local governments and private businesses hire these organizations to design and build engineering systems. Power lines are no different from a new bridge or sewage system.
Non-residential building services are likely to employ a significant number of Power Transmission Engineer. However, they employ just 5% of all Civil Engineers.
State government employ around 13% and local government around 11%; Federal government employs 4%. Many of these will work on projects of public interest - for example roads. The installation of new power lines is as much a public interest as it is a private project as it could affect public and legally protected land. The Power Transmission Engineer in these roles may work to ensure that private plans submitted to government for authorization adhere to environmental protection laws and other legal requirements. They are likely to be part of the decision making process when planning permission or equivalent is approved.
<!- mfunc search_btn -> <!- /mfunc search_btn ->
What Is the Average Power Transmission Engineer Salary?
The median salary for all civil engineers (under which Power Transmission Engineers are included) according to 2020 BLS data was $88,570. Salary of the lowest 10% of earners came in at around $56,160 and the highest averaged at $144,810. The highest paying, despite employing the fewest number, was Federal government with a median salary of $99,750. The second highest for salary was local government at $95,760. *
Power Transmission Engineering Jobs & Job Description
Recent Power Transmission Job Listings
Use the search box below to find all the power transmission engineering job listings in our job board.
The role of a Power Transmission Engineer is highly calculated, technical and analytical to determine means of getting power from the source of generation to where it is used. A specialized set of skills and responsibilities is required and may include:
A Diploma or Bachelor's Degree in Electrical Engineering or from a related field of study
Possess efficient verbal and written communication skills
Acquire a keen attention to detail
Ability to execute functional tests on power transmission components and perform calibrations
Utilize specialized computer software programs to perform electrical tests and design computer-based models
Perform troubleshooting in electrical circuits and transmissions
Work sites may require some travel and include physically strenuous situations
Install, repair and test a multitude of electrical components such as circuit breakers, insulators, conductors, transformers and panels
Ability to read and produce drawings and develop design opportunities
Conscious and concern for health and safety and relative personal protective equipment
Senior level positions as a Power Transmission Engineer include many of the same skills mentioned previously in the entry-level position. Additional skills and requirements for a senior level position may include:
Hold a Bachelor's Degree or Master's Degree in Electrical Engineering
Possess several years of experience working in the power transmission or electrical engineering field
Oversee the maintenance, testing, and installation of various electrical components such as circuit breakers, panels and transformers
Outline and construct transmission lines in various ranges for commercial and utility systems
Develop cost analyses and outline project budgets
Possess excellent interpersonal skills to communicate effectively with clients, contractors and vendors
Manage a team of individuals to complete projects on time and provide feedback as required
Advise and direct management on electrical system operations and maintenance
What Is the Job Demand for Power Transmission Engineer Technicians?
Demand for Civil Engineers in general is expected to grow 8% in the decade between 2020 and 2030. This is slightly higher than the average of all jobs across the country.* Much of their work of civil engineering depends on construction; if building work slows, so will demand for Power Transmission Engineering jobs. However, with a growing population it is unlikely this role will experience contraction. New homes and services will always been needed to cope with the increasing population. Power Transmission Engineers may experience constant and stable demand compared to others in the sector.
What Are the Education Requirements to Become a Power Transmission Engineer?
As a type of engineering role, students should follow the typical path recommended for this job. High school students should develop a strong focus on the hard sciences. Good grades in math and physics will be vital for entering this job type. There are plenty of undergraduate degree options; students should apply for any number of dedicated civil engineering roles. Environmental Engineering may also be a good choice where available. Elective and minor choices should reflect the topographical nature of the job. Geography would be suitable, as would cartography where available. As mentioned above, digital mapping is likely to be a large part of this job now and in future so students should make GIS a priority. In order to practice engineering, many states require that you seek a license.
Masters degrees are suitable for students who wish to work in project management. Around 25% of civil engineers have master's degrees, making this a highly competitive field. As a recognized skills shortage area, students armed only with a BA/BS should have little difficulty finding suitable employment. Doctorates should not be required except in circumstances where the student wishes to enter a career in academia, specifically in research and teaching.
Power Transmission Engineering - Related Degrees
<!- mfunc search_box_body ->
<!- /mfunc search_box_body ->
What Kind Of Societies and Professional Organizations Do Power Transmission Engineer Have?
This is a small niche area within the subcategory of Civil Engineer. The following organizations represent this body.
National Society of Professional Engineers: The largest organization of its kind in the US is for all engineering professionals. A membership club, they offer professional advice and support and offer licensing programs
American Society for Engineering Education: ASEE is dedicated to improving education standards on engineering matters through schools and colleges. Mostly, they promote the discipline to young students to encourage interest in this vital area
*2020 US Bureau of Labor Statistics salary figures and job growth projections for civil engineers reflect national data not school-specific information. Conditions in your area may vary. Data accessed September 2021.
<!- mfunc search_btn -> <!- /mfunc search_btn ->