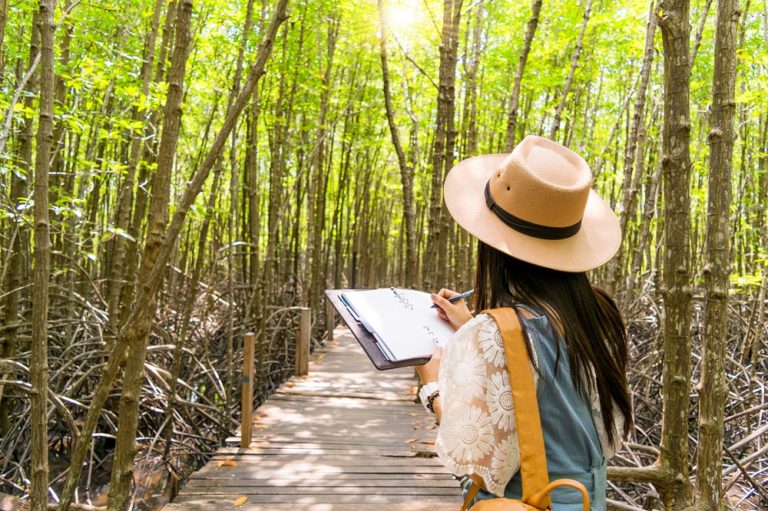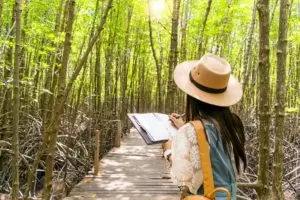 Plant Ecologists examine plants and their relationship with the environment and with other plants.
What Does a Plant Ecologist Do?
Ecology is now one of the most important disciplines in the realm of environmental science. Where most sciences study a single aspect or element, ecology looks at the whole. It studies entire ecosystems including plant and animal life, how the environment impacts life and how the life within it impacts the environments. Ecologists study animal and plant life. Plant Ecologists, on the other hand, examine only the plant life within an environment. They will look at how a certain environment influences or is influenced by the plants that live there.
Like ecology in general, plant ecology can help us make the right decisions about human impact on an area, monitor invasive species and change behavior to promote the growth of threatened or rare species. They may also work with others to introduce plants, trees and mosses (and even animal species) that will complement good plant growth,
They will look at ecosystem disturbance, the causes and effects, and recommend solutions for the conservation of that area. They will also plan conservation strategies or recommend which plants to place in an area for ecosystem recovery. When a parcel or area of land changes use the effects on all life there is potentially massive. It is their role to promote a healthy ecology through the proper application of vegetation.
Where Does a Plant Ecologist Work?
The overwhelming majority of plant ecologists work for government in conservation-based roles. 34% work for Federal government. This will include Federal bodies such as the National Parks Service as support for Park Rangers and research roles, the EPA, NOAA, NASA and others. Their roles may be varied. For NASA, for example, they may research attributes of plants to understand their viability for colonizing other planets. Otherwise, their role is conservation of and on public land.
24% work in state government for state parks and conservation bodies, much like their Federal counterparts. 17% work in local government. In each case, their roles will be similar but on smaller scales than Federal roles.
10% work for advocacy organizations. This broad description covers private conservation charities, global environmental pressure groups, charitable sector conservation trusts and equivalent. Again, their roles will be similar to those in government.
<!- mfunc search_btn -> <!- /mfunc search_btn ->
What Is the Average Plant Ecologist Salary?
The median salary for plant ecologists, who fall under the broader BLS category of environmental scientists and specialists, earned a median salary of $73,230 as of May 2020.* Higher salary tends to be with those with 20 or more years of experience. Lower salary is for graduates and those with up to 5 years of experience. There is regional variation with western states requiring more conservation scientists and workers due to the larger areas of national park and virgin land that needs protecting.
Plant Ecology Jobs & Job Description
Recent Plant Ecology Job Listings
Use the search box below to find all the plant ecologist job listings in our job board.
A Plant Ecologist observes and studies the effects that a variety of environmental factors has on plants. Studies focus on plant varieties as small as single-cell algae to larger plant or tree species that are much more complex. In this field of work, the ecologist will determine how weather, physical environment, and other organism affect the growth, life span and maturation of plants.
There is a variety of jobs available in the field based on the level of education attained. The foundation of all jobs in plant ecology is experience in the field. Plant ecologists may be required to perform the following tasks:
Having an Associate's degree is sufficient to obtain work in the field or in a laboratory setting at an entry level position, however a Bachelor's degree in Plant Ecology is needed for work as an educator or in the field
Privately owned companies regularly require plant ecologists to have a Master's degree. These types of jobs include consulting and environmental planning
Plant Ecologists must possess the ability to work alone or as a member of a team.
Be capable of identifying numerous varieties of plants according to taxonomical criteria
Pay close attention to detail in the environment and traits of the plant and ecosystem in question
Possess adequate writing, sketching and communication skills
The highest degree that can be obtained in Plant Ecology is at the doctorate level. They must be prepared to take on responsibilities on par with their level of education and experience which may include:
Be prepared to keep unusual hours and travel extensively as each project requires
Use and program the technology used in the field to document, navigate and take photos of the species in question
Leading research projects for a variety of clients and companies including positions in government.
Must be physically able to endure adverse terrain, inclement weather and long workdays in the field environment
Must be able to manage teams both on site, in the lab and remotely
Must be able to communicate clearly with team members, landowners, indigenous people and others that one may encounter in the field
What Is the Job Demand for Plant Ecologists?
Job demand for all conservationists, including ecologists, is expected to grow 8% between 2020 and 2030. This is the median average for all jobs in the US for the same period.* As conservation demands grow through Federal, state and international laws, there will be more openings than ever before. However, new technologies will offset personnel demand, effectively cancelling out general employment expansion. A contributing factor to growth is construction. Assessments are required ahead of any development. Should construction grow, there could be greater demand. Should the industry slow, demand could contract.
What Are the Education Requirements to Become a Plant Ecologist?
High School students should have a solid ground in the hard sciences, particularly biology and chemistry, and in geography. These will set the student up well for a career as an ecologist or conservationist. There are a variety of degree choices for the prospective undergraduate. The first option is environmental science. This will allow the student to study ecology. Another option is geography; the student may wish to tailor their studies to ecology and away from other elements of geography, however. Biology may also be a good choice, but as ecology tends to be BA subjects rather than BS, the latter will be the better option.
Students with a BA/BS or Associates Degree should find plenty of entry-level work, especially if the desire is to work in the field on conservation projects. Postgraduate courses should not be required in the majority of cases unless the student wishes to engage in primary research, data collection and analysis, report writing and decision-making. MA/MS will be required for the small number of private industry and charity work as the role will be multidisciplinary with many responsibilities. Students will need a broad spectrum of skills including technology, botany and in some cases, zoology.
Doctorate programs are required for students who wish to teach at the higher levels of academia and in large research programs, typically for government bodies such as ESA, NASA and so on. Other research roles where fieldwork is minimal, a doctorate is more than advantageous.
Plant Ecology - Related Degrees
<!- /mfunc search_box_body ->
What Kind Of Societies and Professional Organizations Do Plant Ecologists Have?
Plant ecology is a growing area within the environmental science field.
Ecological Society of America: The largest ecological body in the country, they are a nonpartisan and nonprofit body devoted to raising public awareness of ecology and influencing decision makers to understand environmental issues
Environmental Protection Agency: EPA is the Federal government organization charged with ensuring that individuals, government bodies and private businesses adhere to Federal laws on environmental protection
American Society for Horticultural Science: Although based in the US, they are an international organization for promoting good science around horticulture - part of the remit of plant ecology as human agriculture impacts natural landscapes
*2020 US Bureau of Labor Statistics salary figures and job growth projections for environmental scientists and specialists reflect national data not school-specific information. Conditions in your area may vary. Data accessed September 2021.
<!- mfunc search_btn -> <!- /mfunc search_btn ->