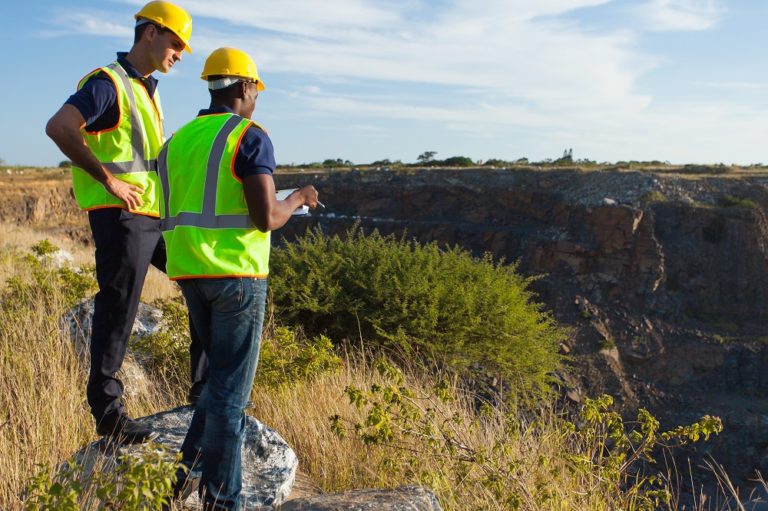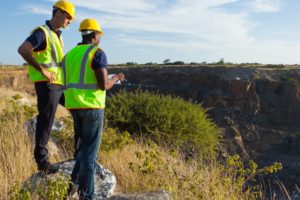 Mining surveyors use scientific tools to determine the viability of proposed and existing mines.
What Does a Mining Surveyor Do?
Mining surveyors are a type of surveyor or mapping scientist that use all the tools, technologies and methods at the disposal of the discipline to record details for mines. They will look at maps and GIS data to determine potential areas of new resources. They will also use similar data to determine the potential future use of an existing mine - i.e. whether it is worth the investment to remove the remaining material or to close the mine. This is an essential role in efficient extraction of material and for determining the future viability on grounds of environmental protection and / or profitability. This is a broad role requiring a multidisciplinary approach. It is also an applied science that utilizes many geoscience technologies - new (GPS and GIS for planning) and old (maps, on-the-ground measurements, property ownership documents) and image design programs such as AutoCAD.
It is not just about technologies. They will need to understand mining engineering, the legal aspects such as land boundaries and state law, and even about geology itself. They need to understand the properties of rocks and deposits to find associated materials, the size of the deposit and the potential for access. Some of these require education and training rather than technology. They will also need to understand the scientific reports produced as part of the research and applied science community.
Where Does a Mining Surveyor Work?
No specific data exists for mining surveying, as this is a niche area within a specific skill set. Details referring to surveying in general (using the same knowledge base, methods and technologies) suggests that the overwhelming majority (over 70%) work in architectural and engineering services. The mix of fieldwork and office work means that they require a variety of skills related to geosciences. Few are able to spend time just in the field or just in the office, although in areas of engineering geology services that employ large teams. If the skills of an individual were one way or the other, they may find they are able to work in one environment only - for example, taking measurements and manual activity, or reading and interpreting measurements.
The next largest employer, with around 11% of the employees working in the surveying niche, is government. In reality for mining, the numbers may be far fewer than this. Surveyors who work for government bodies may be involved in the relation of mining facilities to public works - highways, government buildings and residential areas.
8% work in the construction industry, fulfilling much the same roles as those in engineering services, but spend more time on private construction projects which their businesses are employed to develop.
<!- mfunc search_btn -> <!- /mfunc search_btn ->
What Is the Average Mining Surveyor Salary?
According to the BLS, surveyors earned a median salary of $65,590 as of May 2020.*
Mine Surveying Jobs & Job Description
Recent Mining Surveyor Job Listings
Use the search box below to find all the mine surveying job listings in our job board.
Mining Surveyors are responsible for the calculated mathematical measurements that are involved in the safe creation and maintenance of mining sites. Topological measurements obtained aboveground and underground are used by the surveyor to produce detailed mappings of mining locations. The skill set required for a Mining Surveyor includes:
Possess a technical degree in surveying
Ability to work within a team and efficiently independently as required by the job
Capacity to take direction and report to a supervisor
Perform work in extreme weather and environmental conditions; work sites often have steep slopes and rugged terrain
Possess strong technical, oral and written communication skills
Produce detailed mappings and mathematical measurements for multiple aspects of mining operations
Adherence to safe work practices and wear personal protective equipment as required
Perform surveying functions and produce maps of underground mines
Locate utility lines and permanent structures through surveying
Maintain and regularly calibrate surveying instruments and equipment
Design emergency maps for the mine and measure ventilation throughout the mine
A Senior Mining Surveyor or Mining Surveyor Manager possesses extensive surveying experience and offers a great deal of expertise to the position. The skills of a senior level position are comprised of the skills required for an entry-level position as well as:
Possess varied experience in mining and surveying
Use innovative methods for collecting accurate survey information
Ability to respond to issues or concerns from surveyors and provide recommendations and mentorship
Develop surveying work plans and assign job tasks
Design project budgets and monitor project progress to determine any deviation from budget
Knowledgeable in underground mining operations and procedures
Possess excellent communication skills to present mappings and measurements of mining operations to management and clients at meetings and conferences
Research the current mining methods and updates of equipment available, such as drone use and robotics
Attend training seminars and train fellow surveyors at work sites
Manage data reports and field observations and produce regular interval reports for stakeholders, management or clients
What Is the Job Demand for Mining Surveyors?
Between 2020 and 2030, the job demand for surveyors is expected to increase by 2%.* The reason for this slow rate of growth is the advancement of new technologies that require fewer personnel to operate, are faster, more efficient and less resource intense. Students who focus on surveying technology such as AutoCAD, GIS and engineering design, will find their employability more attractive than those who do not have these skills.
What Are the Education Requirements to Become a Mining Surveyor?
High School students who wish to enter into a career in mining surveying should focus on the hard science subjects such as math and physics, and on geography. This will set you up well for your university degree where you should continue to focus on these subjects. Ideally, a degree related to geography or other applied science (such as geology) should be your main approach. Minors and electives should include not only math and physics, but also the relevant technologies that you will need in such a career. GIS and AutoCAD are now essential. Another option is to take one of the growing number of degrees in surveying and take math, geology, geography etc as minors and electives. Whichever degree you take, it should be ABET accredited.
Masters degrees are preferable, especially for students intending to seek greater responsibility and project management. Only a master's can develop this greater understanding in the application of projects and applied sciences. With the job demand set to drop between now and 2024, a master's may become increasingly the expectation for graduates to enter into the field, and not an added bonus.
A doctorate program is suitable for those who intend to enter into academia, especially college teaching. It is not vital for most jobs, unless the applicant seeks high-level advisory roles in government or at scientific institutes.
Mining Surveyor - Related Degrees
<!- mfunc search_box_body ->
<!- /mfunc search_box_body ->
What Kind Of Societies and Professional Organizations Do Mining Surveyors Have?
Mining surveyors are a small but broad niche with many practical skills. Here are some relevant professional bodies.
International Society for Mine Surveying: This international organization brings together the specialists all over the world. They are a permanent member of the World Mining Congress, and therefore prestigious
National Society of Professional Surveyors: Not specifically for mining surveyors, they are the largest US body that oversees, gives guidance to, and provides information for all professional surveyors, no matter where they work
*2020 US Bureau of Labor Statistics salary figures and job growth projections for surveyors reflect national data not school-specific information. Conditions in your area may vary. Data accessed September 2021.
<!- mfunc search_btn -> <!- /mfunc search_btn ->