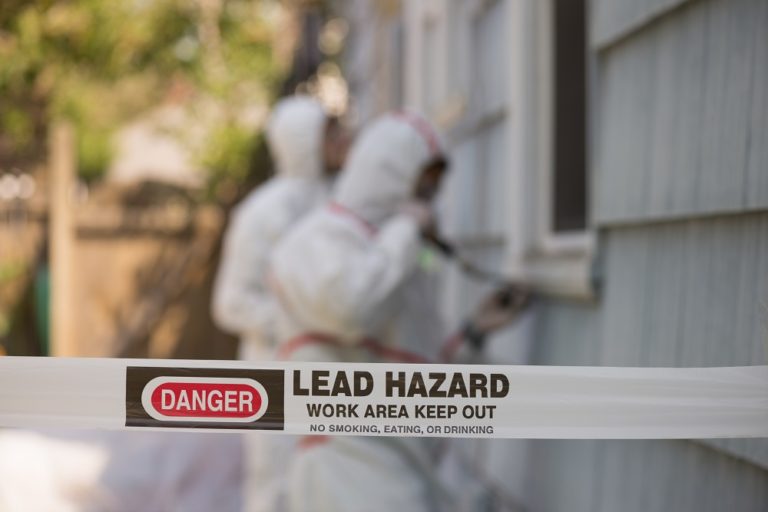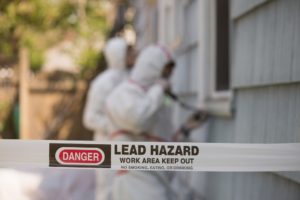 Lead Abatement Technicians remove lead and lead derivatives from buildings during construction, renovation and demolition.
What Does a Lead Abatement Technician Do?
The USA has a large number of older industrial era buildings that used hazardous and toxic materials in their construction. One of these is the metal lead. It has a number of useful properties - it is durable and malleable and is a great shield against radiation. It was used as a building material right up to the 1970s and is still present in many standing buildings built before this era as it was in this period that we started to understand health problems associated with lead poisoning.
Use of lead in roofing (such as churches) and in paint subsided in recent decades. However, for some buildings it is still a necessary material (shielding at nuclear plants). Disposal of lead when renovating or demolishing an existing building must be done safely. That is why we require specialist Lead Abatement Technicians trained in the safety issues surrounded lead as a building material. They may also have greater knowledge and understanding of other potentially harmful substances such as asbestos. In a way, they are a type of decontamination technician that promotes good outdoor and indoor air quality for public health.
Where Does a Lead Abatement Technician Work?
Lead exists in buildings and other construction projects built before 1970 when our understanding of lead poisoning improved. The overwhelming majority (75%) work in remediation and disposal services for the construction industry. With modern constructions using safer materials that are known to have much lower environmental impact, these individuals are largely tasked with decontamination and disposal of hazardous materials such as lead and asbestos.
Around 10% will work in construction, typically in many roles from advisory and monitoring (during renovation of buildings that may contain lead) to safety promotion. They may take the role of safety manager or trainer in these instances rather than working on site handling the material directly. As the number of buildings using lead reduces, this sector could potentially drop even further. Some buildings still use lead as an essential construction element. Older church roofing and nuclear power plants are two areas where lead will be largely concentrated in future.
4% of are employed in government positions. Typically, this will be in disaster relief where lead- containing buildings may be damaged or destroyed and release toxic particles into the atmosphere such as earthquakes, building collapse etc.
<!- mfunc search_btn -> <!- /mfunc search_btn ->
What Is the Average Lead Abatement Technician Salary?
Lead Abatement Technicians, who fall under the broader BLS category of Hazardous Material Removal specialists, earned a median salary of $45,270 as of May 2020. The top 10% earned about $76,570 during this time.*
Lead Abatement Jobs & Job Description
Recent Lead Abatement Tech Job Listings
Use the search box below to find all the lead abatement technician job listings in our job board.
A Lead Abatement Technician will safely remove any lead from a property, building or area. Lead is generally found within older styles of paint. The skill set required for a Lead Abatement Technician include:
Capacity to follow instructions from a supervisor and correspond with a supervisor
Capability to work within a team and independently depending on the task
Ability to travel to various work locations and flexibility to work varying work schedules
Able to perform work in extreme temperatures, weather conditions and environmental conditions; work generally performed in negative pressure containment areas to prevent contamination to adjoining areas
Conduct work in a safe manner ensuring that all safety protocols are followed while working with lead paint removal
Ability to complete reports and documentation required for job assignment
Capability to perform physically demanding job tasks, including lifting of heavy equipment and performing work in small spaces
Possess excellent communication skills to interact with clients and customers
Maintain and regularly inspect equipment and supplies
Perform work using personal protective equipment, such as a properly fitting respirator and protective suit
Possess knowledge of local, state and federal laws and regulations
A senior level Lead Abatement Technician manages a team of technicians and will have gained experience by using many of the same skills listed in the entry-level position. A senior level position may also include:
Place orders for required supplies and equipment
Oversee and mentor teams of technicians
Provide insight into lead removal projects to improve efficiency and decrease costs
Ensure technicians adhere to all safety protocols and company policies and procedures
Provide consultation to clients on lead based hazards and perform risk assessments
Ability to use lead detection equipment to determine the presence of lead in areas of work sites; calibrate and maintain equipment
Manage lead removal projects to ensure that work is completed on time and efficiently
Communicate verbally and in writing with management, customers and clients
Complete and validate timesheets and thorough records of work completed
Develop work schedules and process management to organize company tasks and increase productivity
What Is the Job Demand for Lead Abatement Technician?
Job demand for all hazardous material safety roles is expected to grow by 7% in the years between 2020 and 2030. This is equivalent the nationwide average of all jobs. Some hazardous materials are vital in the construction industry and we cannot avoid using them, even though great strides have been made in recent years to come up with safer natural or synthetic substances to replace them. As older buildings are torn down, lead abatement is an ongoing need, especially for those who also work with asbestos.*
What Are the Education Requirements to Become a Lead Abatement Technician?
A High School Diploma at the very minimum is required to become a Lead Abatement Technician or a handler of any other toxic or hazardous material. Students should study sciences related to the role such as physics and chemistry; these will be advantageous but not essential. On the job training is provided for this type of role. There are some limiting criteria. In some states, and those who handle certain materials, they may be required to pursue certification before they are permitted to practice. There are extra criteria for those who intend to work in nuclear facilities - an Associates Degree is preferable in most cases, but not essential. Working in nuclear facilities could come under the remit of Lead Abatement Technicians, for example, when a reactor is being commissioned or decommissioned. You will need to undergo relevant security clearance and subject to alcohol and drugs testing. You must also be a US citizen.
Lead Abatement - Related Degrees
<!- mfunc search_box_body ->
<!- /mfunc search_box_body ->
What Kind Of Societies and Professional Organizations Do Lead Abatement Technician Have?
Lead Abatement Technicians are a specialist subset of Hazardous Material Removal Technician roles. The following bodies represent this area.
Environmental Protection Agency: The EPA is the government body whose responsibility it is to ensure that our environment is safe. This includes guidance and laws on removal of lead
*2020 US Bureau of Labor Statistics salary figures and job growth projections for hazardous materials removal workers reflect national data not school-specific information. Conditions in your area may vary. Data accessed September 2021.
<!- mfunc search_btn -> <!- /mfunc search_btn ->