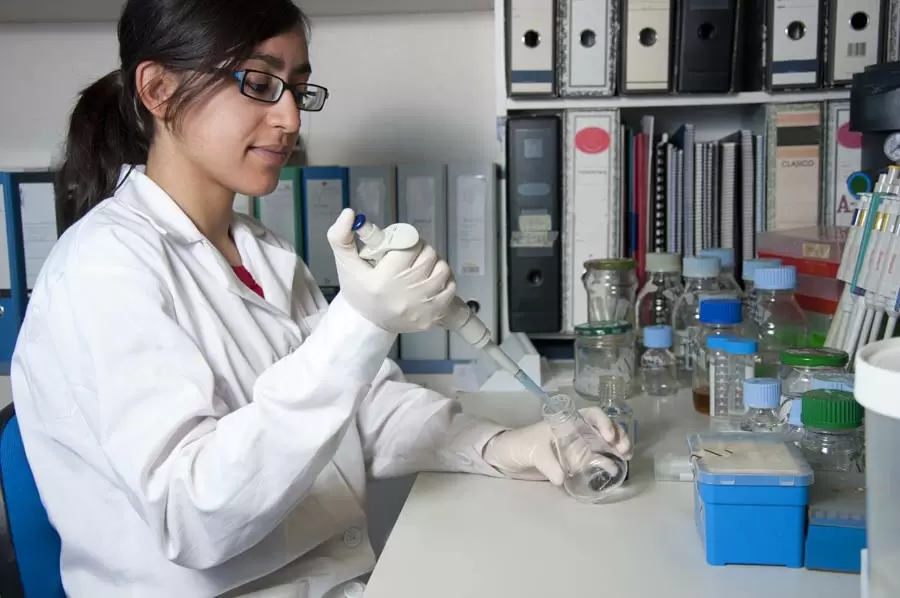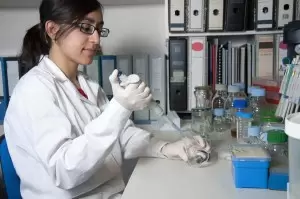 Lab technicians run laboratory tests to identify and quantify substances. Environmental lab technicians test for contaminants that affect the environment and the health of humans and wildlife. Some lab technicians may collect samples from the field. They may work under other job titles like environmental technician, environmental specialist, laboratory specialist, and environmental health specialist.
What Does a Lab Technician Do?
Lab technicians prepare and test samples of gases, soils, water, industrial wastewater, and other materials to determine pollutant levels or identify sources of contamination. They usually specialize in either indoor lab testing work, or sample collection from the field. Technicians working in labs use a variety of testing methods and equipment that they must calibrate. They record, report, and summarize the data from test results, and discuss them with supervisors or customers. Some even develop testing procedures or direct other lab workers. Lab technicians working in the field may also design monitoring programs and set up monitoring equipment.
They usually do their work at the direction of environmental scientists or engineers, who review the work and use the results to develop cleanup procedures, make policy recommendations, or confirm that a site has been successfully remediated.
Where Does a Lab Technician Work?
Most environmental lab technicians work for state or local governments, testing laboratories, or consulting firms. Those specializing in lab work spend most of their time indoors in labs and offices, while those who work in field collection spend most of their time outdoors in all kinds of environments and all kinds of weather, investigating everything from urban factory sites to remote rivers and lakes. Fieldwork can involve a lot of walking, standing, carrying, and lifting.
Environmental lab technicians typically work full time. Technicians working in the field may sometimes need to work long or irregular hours.
<!- mfunc search_btn -> <!- /mfunc search_btn ->
What Is the Average Lab Technician Salary?
Environmental science and protection technicians earned an average of $46,850 as of May 2020. At $51,510, those employed in local government earned the highest median salary, while those in state government earned $47,970. Lab technicians providing management, scientific, and technical consulting services earned $53,890, while those working in engineering services made $49,360.*
Lab Technician Jobs & Job Description
Recent Environmental Lab Technician Job Listings
Use the search box below to find all the lab technician job listings in our job board.
Found across the various scientific disciplines, lab technician jobs require a solid foundation of scientific skills and a readiness to work in a methodical and disciplined manner in order to advance scientific knowledge. While jobs vary significantly, most lab technicians find these types of tasks within the scope of their duties:
Gather, test, and analyze samples under the guidance of the senior researcher
Perform experimental testing on organic and non-organic materials to gather data about current hypotheses
Performs test validation
Ensure that lab equipment is maintained in an orderly and safe fashion
Complete tasks as directed by the principle investigator or senior technician
Assists with other on-going research for colleagues and personnel in order to facilitate timelines and benchmarks
Assists with general laboratory support and maintenance to ensure smooth operation of the lab
Interact with a large project-based workgroup that may include manufacturing and marketing agents, administrators, supervisors, research scientists, engineers, technicians, as well as external stakeholders
Collect, correlate and interpret data
Performing mechanical and chemical analyses
Report on findings using computer software
Maintain laboratory notebooks and laboratory information management system to standard
Performing routine and preventive maintenance of equipment
Coordinate maintenance schedules for equipment through equipment vendors.
Perform technical troubleshooting on specific equipment and processes
Improve existing analytical procedures
Develop new analytical procedures as innovation and client requirements dictate
Review current scientific literature
Senior technicians are often selected for managerial duties as they fall in the lab team. Commonly, some of these tier-two tasks are:
Plan and schedule lab workload to meet clients' information needs and timelines
Budget and setting lab milestones
Design systems and protocols to ensure that the laboratory remains a positive and challenging work environment
Write updated laboratory procedures and technical reports
Train fellow technicians on specific equipment or processes
Provide mentoring and guidance as required
Oversee safety audits and attending all required safety meetings.
Apply statistical models to monitor laboratory testing performance and other duties as assigned
Monitor and record compliance with federal regulations
What Is the Job Demand for Lab Technicians?
Employment of environmental science and protection technicians is projected to grow 11 percent between 2020 and 2030, which is faster than the average for all occupations.* Growing awareness of environmental issues and population pressures will drive much of this growth. Retirements will also result in some job openings. Many of the new jobs will be with consulting firms. There will be increasing demand for the monitoring services of these firms from companies and governments. Candidates with associate's degrees and lab experience will be well prepared for these jobs.
What Lab Technician Careers Are Available?
Environmental lab technician positions are entry-level positions open to candidates with relevant associate's degrees. However, these workers may want to pursue further education in environmental science to advance beyond technical positions.
<!- mfunc search_btn -> <!- /mfunc search_btn ->
How Do I Get a Lab Technician Degree?
Environmental lab technicians typically need an associate's degree or two years of college education, though some positions may require a bachelor's degree. Many technical and community colleges offer environmental laboratory technician programs and certificates.
As with nearly any environmental career, a solid background in science is important. Chemistry, biology, geology, geochemistry, physics, math, and computer science are the most helpful areas for lab technicians. Internships can help students gain valuable experience.
In some states, environmental lab technicians need to be licensed for certain activities, such as testing buildings for radon, lead, or mold.

Related Degree Options for Lab Technicians
<!- mfunc search_box_body ->
<!- /mfunc search_box_body ->
What Kind of Societies and Professional Organizations Do Lab Technicians Have?
The National Environmental Health Association is a national professional society for environmental health practitioners. It advances the profession by setting standards and awarding scholarships. It offers several credentialing programs, including Certified Environmental Health Technician and Registered Environmental Technician.
The Association of Public Health Laboratories (APHL) offers professional development and network opportunities to employees of its institutional members. Its Environmental Health Program provides training to staff at environmental labs, and communicates relevant government information to its members. It links to resources like U.S. EPA test methods, exercises, webinars, and environmental toolkits.
*2020 US Bureau of Labor Statistics salary figures and job growth projections for environmental science and protection technicians reflect national data not school-specific information. Conditions in your area may vary. Data accessed September 2021.