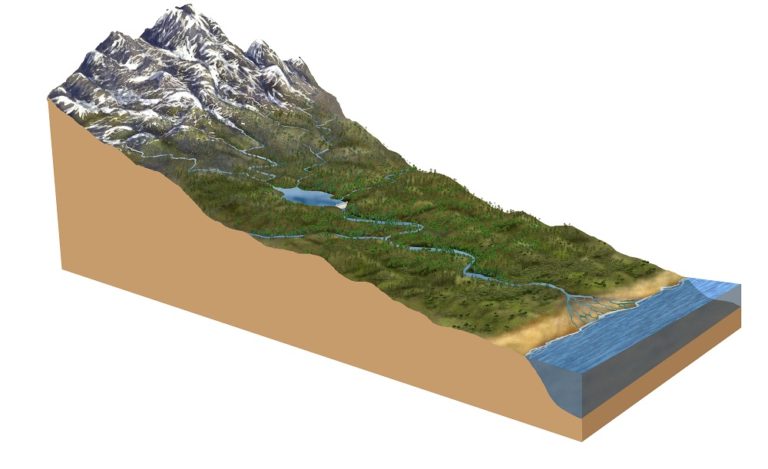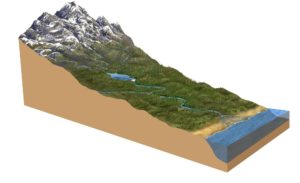 Hydrogeologists examine and explain the relationship between water and rocks and soil.
What Does a Hydrogeologist Do?
Hydrogeologists are a type of environmental geologist that study how water interacts with the natural environment of rocks and soils. People with these qualifications can carry out one of two jobs, but sometimes will be expert in both. The first role is that of environmental geographer. They study the relationship between water and rocks and soil as a natural process. Their data will help other experts understand such environmental processes as glaciation, river formation and movement, flood and other natural disaster risk and long-term environmental processes. They help us understand the world around us in terms of the relationship between water and dry land. They will look equally at data collected from the field, GIS analysis and old maps.
The second role of a hydrogeologist is to ensure that water supplies remain safe and healthy. Some rock and soils contain contaminants that are harmful to human health. It is their job to identify and mitigate them. Most of these will be naturally occurring contaminants, but they may also be the result of pollutants. They may provide expert analysis in litigation against the businesses responsible should a court case be necessary.
They may also be involved in environmental planning. The amount of waste that we produce requires space to put them. Hydrogeologists will look at the underlying soil and geology of proposed sites to ensure that pollution risks are low (for example subterranean rivers or lakes that flow into domestic water supplies). Land use planners will often consult hydrologists and hydrogeologists. They differ from hydrologists in that these professionals study surface water rather than how water changes the environment.
Where Does a Hydrogeologist Work?
Hydrogeology is closely related to hydrology and the Earth sciences, so they will have a good all round understanding of the environment. The largest employer of hydrogeologists at present is Federal government. They will work in a wide range of areas such as monitoring for bodies like the National Park Service, as researchers for the EPA and in legal (public prosecution). Around 28% of hydrogeologists work for the Federal government. Others will also work in academia and teaching.
Around 22% presently work for scientific and technical consulting services. These individuals will work independent of bodies and hired on a case by case basis. Government, private businesses and third sector organizations may hire them for a specific task per contract. Similarly, the 17% who work for engineering services will be hired for the same sort of role by (typically) civic engineering and construction companies, or they may work on projects that their employer manages.
17% and 9% respectively work for state and local government. Their roles will be similar to the Federal government jobs but at a local level. Regardless of which sector they work in, their role will be a mix of office work and fieldwork.
<!- mfunc search_btn -> <!- /mfunc search_btn ->
What Is the Average Hydrogeologist Salary?
Hydrogeologists earned a median salary of $84,040 as of May 2020. Those working in engineering services ($97,890), the federal government ($92,070) and scientific/technical consulting ($98,080) reported the highest median salaries.*
Hydrogeology Jobs & Job Description
Recent Hydrogeology Job Listings
Use the search box below to find all the hydrogeologst job listings in our job board.
The work of a Hydrogeologist is required in many different industries, such as mining, waste management and storm water management. The requirements and tasks of a Hydrogeologist will vary from job to job and with project scope, and will include:
A Bachelor's of Science degree in hydrogeology or related physical science field of study
Ability to work independently on projects and as a contributing member of a team
Capability to travel to various field sites; travel may be extensive or minimal depending on the company of work
Capacity to work in extreme weather and environmental conditions
Ability to effectively communicate verbally, technically and in written form
Attention to safety while working at field sites and in the laboratory; use personal protective equipment properly when required
Perform groundwater sampling at field sites using specialized instrumentation and equipment; maintain and regularly inspect and calibrate all equipment
Undergo sampling tests on site, such as hydraulic aquifer tests or pumping tests, or bring samples to the laboratory for testing
Analyze samples; prepare qualitative and quantitative reports based on analysis results
Acquire efficient computer skills to utilize databases and maintain organized data management
Possess specialized training certifications and licences, such as a 40-Hour OSHA HAZWOPER certification
Thoroughly understand all environmental laws, regulations and permits regarding hazardous waste, pollutants, and water resources
The role of a Senior Hydrogeologist is comprised of several of the same tasks and requirements of a Junior Hydrogeologist and also may require:
A Master's of Science degree in hydrogeology or related physical science field of study
Inherent knowledge on the many processes and components of hydrogeology
Develop remediation projects and investigations on groundwater and soil at work sites
Ability to multitask several projects at any particular time, including budgeting and scheduling of projects
Apply project management skills to mentor and provide assistance to project teams
Administer training to project teams on sampling methods and procedures
Oversee development projects for water supplies and groundwater management
Assess issues with groundwater and provide recommendations and consultation to clients and fellow employees
Participate in the retention of existing clients and the development of new clients
Communicate project details and progress at meetings or conferences
Desire and ability to learn new applications and methods in hydrogeology by attending training programs and seminars
What Is the Job Demand for Hydrogeologists?
Like other geoscientists, hydrologists and geologists, demand for this sector is expected to grow around 6% between 2020 and 2030.* This is the average across all jobs. As demand for environmental services increase, so too will experts in various fields. There may be a demand increase in environmental mitigation (EPA and FEMA), especially as natural disasters such as floods increase due to climate change. The broad scope of problems caused by floods exists beyond the damage caused by the actual flood, but also public health and ecology.
What Are the Education Requirements to Become a Hydrogeologist?
At minimum, candidates will require a bachelor's degree for the majority of entry level jobs. Students should take a degree in environmental science, geography, geology, earth sciences or related. Physics will also be an advantage, as will geoengineering. Students should tailor their minors and electives to environmental subjects. You should also consider taking math related subjects, specifically statistics, as this will aid your analytical work.
As hydrogeology concerns much fieldwork, you are advised to study master's degrees where possible. This will provide experience and understanding of the sort of project work that you can expect to carry out in your career. MA/MS courses are highly advisable and will be essential in areas where there is much competition.
A doctorate will be required for teaching and research roles at colleges and universities. Although those wanting to go into environmental law may find the higher qualifications help them develop in their career.
Hydrogeology - Related Degrees
<!- mfunc search_box_body ->
<!- /mfunc search_box_body ->
What Kind Of Societies and Professional Organizations Do Hydrogeologists Have?
Hydrogeology is a relatively new discipline but it has the following professional bodies:
International Association of Hydrogeologists: They are a global organization whose mission is to promote understanding and protection of the world's water bodies. IAH is a members group that releases publications and interacts with world groups
Hydrogeologists Without Borders: A charitable organization, there goal is to create a world where water is sustainably managed for the communities it serves. They work in disaster hit areas to improve water supplies
International Hydrological Programme: IHP is a division of UNESCO and the only part of the UN dedicated to water research. They began as a research program but now provide solutions and management and capacity improvement
*2020 US Bureau of Labor Statistics salary figures and job growth projections for hydrologists reflect national data not school-specific information. Conditions in your area may vary. Data accessed September 2021.
<!- mfunc search_btn -> <!- /mfunc search_btn ->