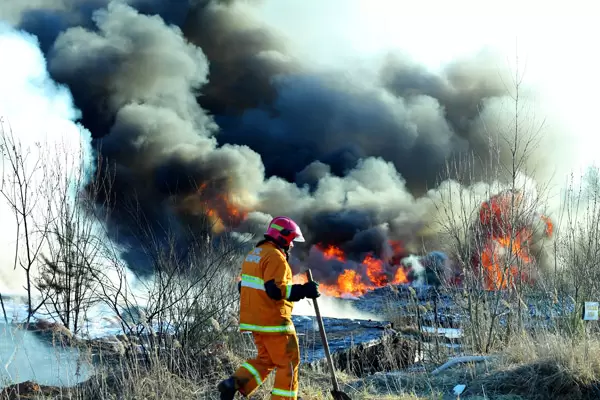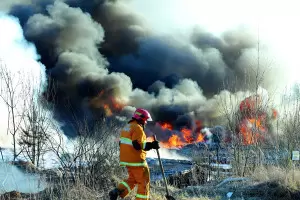 Forest firefighting is the prevention, control and suppression of fires in forests. It involves everything from fire education to budgeting for supplies, maintaining equipment, fighting fires, and assessing fire damage.
A forest firefighter prevents, controls, and suppresses fires in federal, state, and private forests. They work in various capacities under a variety of job titles including forest fire warden, forest ranger, forest ranger technician, forestry technician (fire), wildland firefighter, and forest fire inspector and prevention specialist.
What Does a Forest Firefighter Do?
Forest Firefighters usually work on a firefighting team or crew. They use water pumps, chemical pumps, or shovels to extinguish flames and embers and prevent fires. They maintain and test firefighting equipment, including parachutes, to make sure they're ready for the next emergency. When the time comes, firefighters are usually dropped into the affected area by air. After parachuting down, they retrieve dropped equipment and use a compass and map to stay oriented with their own position and that of the fire. In some cases, they rescue hikers and other people trapped in fire areas and provide emergency medical treatment. After a fire, they patrol for remaining hotspots with potential for reigniting large fires. They also plan and conduct fire prevention education programs.
Forest Fire Inspectors and Prevention Specialists complement the work of forest firefighters. Their work is somewhat more administrative. They enforce fire regulations, go on inspection patrols to look for fire hazards, recommend forest fire prevention and control measures, and keep log books. While on patrol, they send radio or phone messages about emergencies and crew locations. During forest fires, they report on fire conditions, put out small fires with shovels and pumps, and may direct fire crews. They may need to locate forest fires on area maps using traditional methods, such as landmarks. In some cases, forest fire inspectors and prevention specialists must determine the cause of a fire and document the evidence that led them to that conclusion. They also maintain and keep track of firefighting equipment, and conduct fire education programs.
Where Does a Forest Firefighter Work?
With over 30,000 permanent employees in hundreds of locations across the country, the USDA Forest Service is a major employer of foresters and forest firefighters. Some USDA Forest Service employees advise state and private partners across the country.
Forest firefighters also work directly for state forests. Some also work in private industry for forestry firms and private firefighting companies.
The West coast (California, Oregon, Washington, and Idaho), the Great Lakes area (Minnesota, Wisconsin), the Southeast (Florida, Alabama, North Carolina, Virginia), and Pennsylvania are the areas employing the largest numbers of forestry workers.
Forest firefighters spend much of their time outdoors in the field, where they're exposed to all kinds of weather. During fires, they're exposed to flames, smoke, and other hazards. Fighting forest fires can be dangerous work. While in the field, forest firefighters and inspectors must wear appropriate protective clothing, such as boots, gloves, and a helmet. Many forestry jobs, and especially wildfire-related positions, are seasonal summer jobs.
<!- mfunc search_btn -> <!- /mfunc search_btn ->
What Is the Average Forest Firefighter Salary?
As of May 2020, forest firefighters, who fall under the broader BLS category of forest and conservation workers, earned a median salary of $30,640.*
Forest Firefighter Jobs
Recent Forest Firefighter Job Listings
Use the search box below to find all the forest firefighting listings in our job board.
Forestry firefighter jobs involve all aspects of fire protection in remote or sometimes inaccessible locations. Duties vary from job to job, but the following list includes typical job duties one might encounter as a forestry fire-fighting professional:
Responds to emergency alarms and service calls
Performs fire suppression, rescue, and emergency medical duties as required
Inspects and maintains facilities, vehicles, equipment, apparatus, tools, supplies and water access points
Inspects, tests, evaluates and repairs equipment after use
Inspects and maintains personal protective equipment
Ensures that all firefighting equipment is ready and available for immediate deployment
Follows orders with a high degree of focus under stressful conditions
Relays orders, instructions and information accurately and concisely on team actions
Operates emergency, fire, rescue, medical and life saving tools and equipment
Assists and coordinates with law enforcement personnel and medical responders
Extracts victims from accident sites and hazardous situations
Preserves property where possible
Performs salvage and clean-up activities at locations post-fire
Prepares and maintains departmental records
Conducts public education sessions for a wide variety of audiences
Participates in fire prevention, pre-fire planning and safety programs
Assists with training of citizens and volunteer staff as assigned
Attends training programs to continuously update work skills and knowledge
Senior forest fire fighters may be offered the role of team lead or captain at some point in their career. Some of the additional tasks that accompany this senior position are:
Manage and coordinate forest fire-fighting efforts or controlled burns
Oversees emergency dispatch and resource management
Deploys personnel for fire suppression, rescue, and emergency medical duties as required
Investigates cause of blaze and patterns that may become apparent to aid police investigators
Oversees facilities, vehicles and assets
Ensures that all firefighting equipment is in a state of readiness and available for immediate deployment
Gives orders under stressful conditions
Assists and coordinates with law enforcement personnel and medical responders
Manages salvage and clean-up activities at fire and emergency scenes.
Ensures the integrity of departmental records
Facilitates public education sessions for a wide variety of audiences
Creates and facilitates fire prevention, pre-fire planning and safety programs
Hires volunteer staff and firefighting staff, and support staff
What Is the Job Demand for Forest Firefighters?
Job demand for forest firefighters is projected to decline by 8% between 2020 and 2030.* The majority of this growth is expected to occur within federal and state forest lands in the Western United States. More jobs with private firefighting companies are also expected to open up, due to a trend in cost-saving privatization.
What Forest Firefighter Careers Are Available?
After gaining several of years of experience, forest firefighters and inspectors may work their way up to positions as forest firefighting and prevention supervisors. These professionals plan forest fire prevention and control programs, and recruit, train, and supervise forest firefighters. These managers earn an average salary of $70,040.
<!- mfunc search_btn -> <!- /mfunc search_btn ->
How Do I Get a Forest Firefighter Degree?
Many forest technician positions require a two-year degree from a technical college recognized by the Society of American Foresters (SAF). However, many technical positions within the Forest Service, such as fire-related positions, don't require college degrees, while still offering opportunities for advancement.
Foresters and forest technicians may need to be licensed or registered in some states. Voluntary professional certification is available through SAF. The National Wildfire Suppression Association also offers an optional training certification program resulting in designation as a Professional Certified Emergency Services Contractor.

Related Degree Options for Forest Firefighters
<!- /mfunc search_box_body ->
What Kind of Societies and Professional Organizations Do Forest Firefighters Have?
Founded in 1900 by Gifford Pinchot, The Society of American Foresters (SAF) is the most prominent professional association for foresters in the world. The society advances the practice of forestry, and provides information and networking opportunities to foresters and natural resource professionals.
The National Wildfire Suppression Association (NWSA) is the leading organization for private wildland firefighters. It represents private wildland fire services contractors who work with federal, state and local agencies. NWSA offers optional training certification, organizes an annual conference, and keeps members up to date on regulations and developments in the field.
*2020 US Bureau of Labor Statistics salary figures and job growth projections for forest and conservation workers reflect national data not school-specific information. Conditions in your area may vary. Data accessed September 2021.