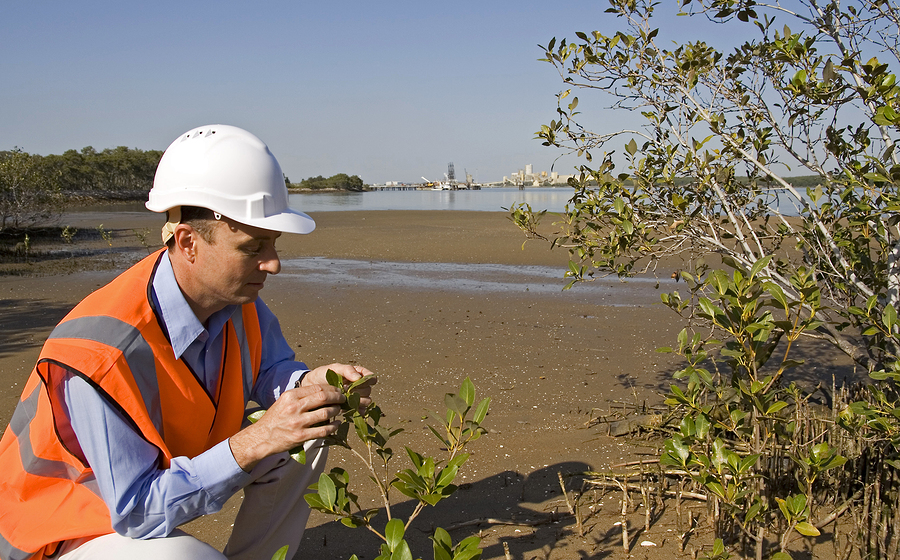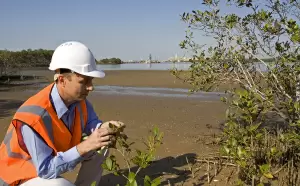 Environmental Compliance Inspectors perform routine investigations of certain job sites and other areas to assure that all projects are compliant with important environmental laws. As a result, they are an essential component for protecting the health of both the land and the general public. This job involves a familiarity with environmental regulations, as well as an ability to accurately record the compliance level of a particular site. Environmental Compliance Inspectors work both in the office and out in the field, striking a spectacular balance between the varied and the routine. Most Environmental Compliance Inspectors hold a bachelor's degree in environmental science, environmental law, or other associated field of study. This position is perfect for detail-oriented personalities that are deeply involved with environmental law.
What Does an Environmental Compliance Inspector Do?
Environmental Compliance Inspectors search job sites for environmental code violations and take proper actions to restore compliance at the site. They will also look through various permits, licenses, and records to assure that everything has been done correctly. They must also remain informed and updated about the latest regulations relevant to their field. After finding a violation, an Environmental Compliance Inspector may be required to follow-up with the case and ensure that compliance is not an issue in the future.
Where Does an Environmental Compliance Inspector Work?
Most Environmental Compliance Inspectors spend an equal amount of time working in an office environment and conducting fieldwork. Of course, Environmental Compliance Inspectors work from an office, where they properly document information found at a job site. However, they must also go to the actual job sites to determine whether or not these rules are being properly followed. Sometimes they may work outdoors, being exposed to adverse weather conditions. Other times they may work in an industrial environment surrounded by noisy, heavy machinery. Most Environmental Compliance Inspectors work full-time, standardized schedules. However, traveling to job sites may require overtime hours and overnight stays in various locations.
<!- mfunc search_btn -> <!- /mfunc search_btn ->
What Is the Average Environmental Compliance Inspector's Salary?
Environmental compliance inspectors, who fall under the broader BLS category of environmental scientists and specialists, earned a median salary of $73,230 as of May 2020, with the highest 10% earning around $129,450 and the lowest 10% earning around $42,960.* Most Environmental Compliance Inspectors work for the federal government, while others are employed by the state or local governments. However, some also work for private management or insurance companies.
Environmental Inspector Jobs & Job Description
Recent Environmental Inspector Job Listings
Use the search box below to find all the environmental compliance inspection job listings in our job board.
Environmental inspectors perform on-site analysis for a variety of engineering projects and businesses. Inspectors' data-collection, reports, and recommendations provide oversight to ensure compliance with federal, state, and local regulations. While jobs do vary from project to project, most environmental inspectors can expect to perform the following duties:
Assess environmental conditions in the field to evaluate potential environmental impacts from the project at hand
Communicate necessary environmental controls to personnel throughout the project.
Inspect and document compliance with the project's' environmental requirements
Prepare daily written inspection reports that provide up-to-date and consistent written and photographic documentation of activities observed in the field
Work independently in a fast paced environment
Communicate effectively and professionally with project staff, contractors, clients, and other project stakeholders
Assess environmental conditions in the field to evaluate potential environmental impacts from the project
Be comfortable in a variety of indoor and outdoor settings
Operate hardware and software for data tracking and record keeping
Monitor for compliance with environmental permits and authorizations
While most environmental inspectors work independently on a consultancy basis, there are some opportunities for senior roles. Inspectors with considerable experience are well suited for the tasks associated with a senior environmental inspector position, which may include:
Prepare and conduct training and in-servicing for personnel and junior team members
Approve field inspection reports, monitoring protocols and field survey work
Interact with regulatory agency staff, landowners, contractors, clients and other project members
Clearly communicate project and professional objectives
Review and implement project documents
Provide critical input on compliance issues
Critically assess environmental conditions in the field to evaluate potential environmental impacts from construction.
Approve field work methodology and reporting procedures for due diligence
Verify flagging of inclusion and exclusion zones for processes and regulations
Inspect and document compliance with a environmental requirements by preparing daily written inspection reports
Provide up-to-date and consistent written and photo documentation of field activities and observations
Participate in meetings with various internal and external stakeholders
Oversee the proper implementation of mitigation measures
Providing support to junior staff and decisionmakers as needed
Perform additional tasks as assigned or required by administrative team
What Is the Job Demand for Environmental Compliance Inspectors?
The job demand for environmental compliance inspectors is expected to increase by 8% between 2020 and 2030.* As environmental awareness and industry increases more compliance officers will be required to maintain the many laws and regulations being placed into effect.
What Are the Education Requirements to Become an Environmental Compliance Inspector?
Becoming an Environmental Compliance Inspector usually require a bachelor's degree, preferably in environmental science, natural resource management, environmental law, or other field related. With that being said, Environmental Compliance Inspectors receive a moderate level of on-the-job training that can last anywhere between a single month to an entire year.
<!- mfunc search_btn -> <!- /mfunc search_btn ->
What Kind of Societies and Professional Organizations Do Environmental Compliance Inspectors Have?
Environmental Compliance Inspectors and those who wish to become Environmental Compliance Inspectors can look to the following government websites for guidance:
Environmental Protection Agency (EPA)
The EPA is a department of the federal government that offers the most updated record of policies relevant to environmental issues. This resource can help Environmental Compliance Inspectors remain updated on the latest federal laws and regulations implemented to preserve land and conserve natural resources.
Environmental Compliance Inspectors can also browse through these organizations and websites for valuable resources:
Ethics & Compliance Office Association (ECOA)
Though this non-profit organization is not targeted specifically towards Environmental Compliance Inspectors, it provides a solid network that all compliance officers can use. It also provides ethics courses and events that compliance officers may attend to improve their performance in the field.
National Registry of Environmental Professionals (NREP)
NREP offers a number of different certifications for environmental professionals, including Environmental Compliance Inspectors. Becoming a Certified Environmental and Safety Compliance Officer (CESCO) identifies a solid understanding of basic, yet significant laws essential to the preservation of U.S. land and resources.
Other Recommend Resources
*2020 US Bureau of Labor Statistics salary figures and job growth projections for environmental scientists and specialists reflect national data not school-specific information. Conditions in your area may vary. Data accessed September 2021.