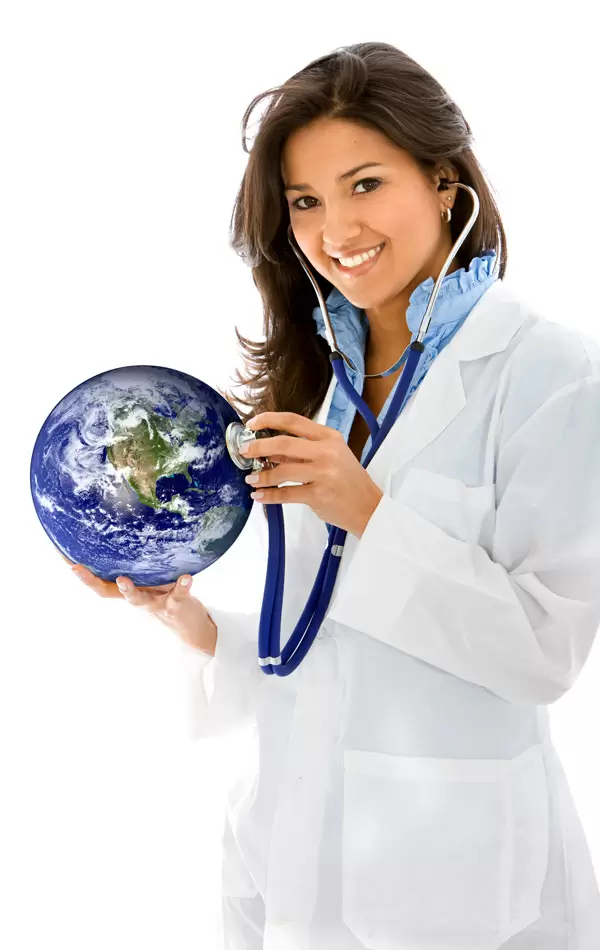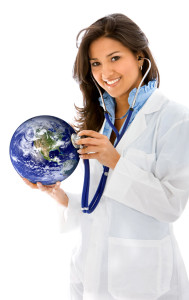 Environmental health is a broad term encompassing all kinds of external environmental factors that can affect human health. In its broadest sense, it encompasses food safety, water protection, air quality, noise issues, pollution, hazardous and toxic substances, waste disposal, and other related issues. In its occupational health context it deals with exposure to hazardous substances and conditions in the workplace, as well as workstation ergonomics, worker health, and disability issues.
Environmental health workers are usually referred to as occupational and environmental health professionals, of which there are several kinds.
Environmental Health Physician
Occupational and environmental health physicians assess the connections between work and health. While some treat patients directly, others organize worker health programs or make disability determinations.
Environmental Health Nurse
Occupational and environmental health nurses (OEHNs) specialize in health and safety services for employees. They promote healthy workplaces through programs aimed at protecting workers from occupational and environmental hazards, preventing injuries and illnesses, and raising awareness about healthy habits.
Registered Environmental Health Specialist
The term "registered environmental health specialist" (REHS) is often used as a job title for a person who conducts environmental health investigations or inspections for a government health department or private company. For example, REHS may inspect food manufacturing plants, underground storage tanks, landfills, and other facilities to ensure safety and compliance with regulations. REHS is also the name of a professional license or certification in this area that's required by some states.
What does an Environmental Health Professional do?
Registered Environmental Health Specialist
A Registered Environmental Health Specialist (REHS) runs environmental and health programs for government agencies and private companies. Their main responsibility is coordinating inspection programs and inspecting a wide range of facilities for compliance with environmental, health, and safety regulations. For example, they inspect drinking water systems, landfills, underground storage tanks, and hazardous materials transfer facilities. Those working for private companies are often inspectors of food manufacturing facilities, or consultants who provide their services on a contract basis.
In an increasingly mechanized and chemical-centric world, environmental health specialists help keep workers healthy and happy. They also help make sure that our mass-produced food supply stays safe for everyone.
Environmental Health Nurse
Occupational and environmental health nurses (OEHNs) share some of the responsibilities of physicians, such as helping employers comply with health and safety regulations and ferreting out potential hazards. However, they also typically take on a case management role, where they coordinate health care services provided to sick and injured employees. They also help the workers they're assigned to through the benefits process.
Nurses often counsel employees about health issues. While these counseling services are primarily intended for work-related illnesses and injuries, OEHNs may counsel for other issues such as substance abuse, stress and anxiety, and other concerns. They may also provide referrals to assistance programs and follow up with workers. OEHNs also run health awareness programs that encourage healthy habits. These employer-provided programs help maintain a healthy, stable, and happy workforce.
Environmental Health Physician
Occupational and environmental health physicians are often employed by large companies, where they're responsible for managing employee health. Those who do clinical work diagnose and treat occupational and environmental illnesses and treat work-related injuries. To do this, they need to be familiar with workplace operations, and the hazards to which employees may be exposed. They may also be responsible for ensuring compliance with all workplace safety regulations, such as those issued by Occupational Safety and Health Administration (OSHA).
Since they may also be involved in worker's compensation and disability determinations, they also need to be qualified to assess an employee's fitness for work. Some occupational and environmental health physicians also run health awareness programs and manage employee health services.
Where does an Environmental Health Professional work?
Environmental health professionals often work for large corporations offering employee health programs that benefit their sizable workforces. Many also work for state and local health departments, disability benefits agencies, and disability insurers, where they make disability determinations. Some work for federal worker health agencies, such as OSHA and the National Institute for Occupational Safety and Health (NIOSH). Others work as consultants. A few are employed by the U.S. military, where they manage the (sometimes international) health needs of our troops.
<!- mfunc search_btn -> <!- /mfunc search_btn ->
What is the average Environmental Health Professional salary?
Environmental health professionals earned a median salary of $42,000 as of May 2020. The top 10% in this field earned more than $101,890, while the lowest 10% earned about $33,720 during this time.*
Environmental Health Jobs & Job Description
Recent Environmental Health Job Listings
Use the search box below to find all the environmental health job listings in our job board.
An Environmental Health Officer assesses health hazards in many different settings, and then reports findings and remediation plans to stakeholders. Duties vary from job to job, but the following list includes typical job duties one might encounter as an Environmental Health Officer:
Assess, design or remediate working conditions to be safe, healthy, and accident-free environments
Provide technical safety and health support for the site, factory, or environment
Implement environmental safety instruction and objectives for employees and management
Oversee and implement health and safety training programs
Ensure compliance to international regulatory safety systems like ISO-18001 and OSHA Voluntary Protection Program (VPP) Star guidelines through planning, programming, and data collection
Ensure compliance with Federal, State, ISO, and corporate health and safety regulations and standards by all employees and systems
Plan, design, launch and facilitate programs and training that incentivize employees to reinforce an environment of safety
Build a greater safety awareness for all stakeholders; help stakeholders become engaged in safety ideals
Encourage safe practice throughout the organization
Conduct analytical studies of accident data to determine root cause and implement preventive actions
Document issues, incidents, root causes, corrective actions, and preventive measures to be implemented; inform stakeholders of findings and solutions
Report and document all incidents to appropriate personnel and appropriate government agencies
Participate in new product, process, and site assessments to determine appropriate environmental safety procedures
Collect and report Occupational Health and Safety statistics
Ensure compliance to all safety procedures and guidelines
Promote safety awareness through internal company tools and external publications
Ensure all safety training is conducted and completed in a timely manner by all stakeholders
Senior environmental health officers often have a broader experience base and therefore are a natural fit for management tasks. Such responsibilities often include:
Create a positive and safe work environment both in the department and company wide
Develop project scopes, schedules, benchmarks and budgets with the help of other departments and team leads
Navigate federal protocols, regulations, and best practices on behalf of the project
Oversee the testing and calibrating equipment and instruments
Oversee recordkeeping, compliance, and confidential records retention and destruction
Create business proposals for funding streams
Ensure quality assurance, organization, and appropriate tracking of field data
Prepare reports for submittal to external stakeholders and for management review
Create action items to design or remediate processes to be safer
Liaise with site stakeholders
Supervise fieldwork (survey, site recording, testing, monitoring, and data integrity) of multiple field crews
Communicate with internal and external stakeholders through field status reports and presentation of team findings
Research new technology and new advancements in agriculture
Participate on committees for policy and regulatory development
Participate on committees for research and educational program development
What is the job demand for Environmental Health Professionals?
The job demand for environmental health professionals is projected to rise about 17 percent between 2020 and 2030.* Growing concerns about toxic chemicals and possible linkages to disease and environmental health will likely fuel job growth.
How do I get an Environmental Health Professional degree?
Registered Environmental Health Specialist
Environmental health specialists usually need a bachelor's degree in a life science such as biology, microbiology, or chemistry. A solid background in calculus, mathematics and statistics is also important. A Registered Environmental Health Specialist/Registered Sanitarian (REHS/RS) credential is available from the National Environmental Health Association.
Environmental Health Nurse
Nursing positions usually require an associate's or bachelor's degree in nursing. Practical nursing experience is also helpful for breaking into this field. A nurse must be licensed by the state in which he or she practices. Certification in occupational and environmental health nursing is often required, or at least advantageous, for jobs in this profession.
Environmental Health Physician
Environmental health physicians are medical doctors who have gone through medical school.
<!- mfunc search_btn ->
<!- /mfunc search_btn ->
What kind of societies and professional organizations do Environmental Health Professionals have?
The National Environmental Health Association (NEHA) administers the industry-standard Registered Environmental Health Specialist/Registered Sanitarian (REHS/RS) credential, which involves passing an exam. It also holds an annual conference, offers continuing education, and publishes the Journal of Environmental Health.
The Alliance of Nurses for Healthy Environments (ANHE) is an excellent resource for nurses looking to expand their knowledge of environmental health. It offers environmental health articles written by nurses and an online networking center for nursing researchers. ANHE also hosts online communities on fracking and public health and climate change and public health.
*2020 US Bureau of Labor Statistics salary figures and job growth projections for health education specialists and community health workers reflect national data not school-specific information. Conditions in your area may vary. Data accessed September 2021.