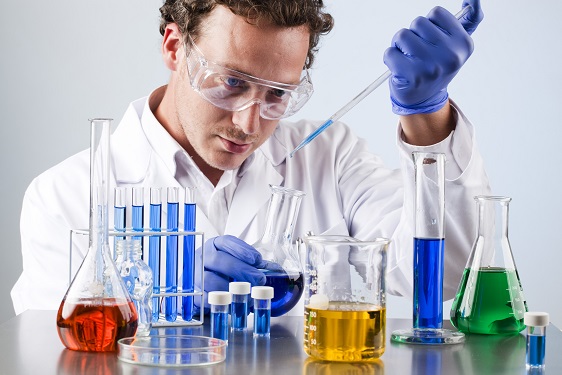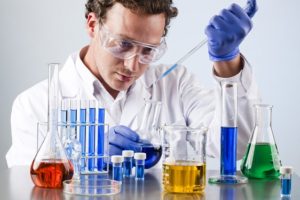 Chemistry is amongst the oldest sciences. It looks at the building blocks of life and the chemical events that lead to the natural processes of the world around us and examines reactions that lead to the creation of new compounds.
What Does a Chemist Do?
Chemists study chemicals and work in two major disciplines. Some work with the microscopic, looking at theories, ideas and models about the world around us. This would include the composition of the atmosphere, chemical processes of the past that have come to drive life on the planet, atmospheric disturbances and other natural processes that have made the various ecosystems the way they are.
The second group works in macroscopic chemistry. Typically, examine with chemical substances working out how certain compounds are made, creating new compounds or using practical lab work to understand how certain gases have formed. They analyze, theorize and synthetize.
The first is more hypothetical but the latter is more practical. They will examine atoms and molecules rather than theorize. The two will work in tandem and some practitioners may straddle both areas, working in theory and then testing in practice. As far as chemistry in the environment is concerned, the discipline has a range of applications from environmental monitoring of pollution to developing new pesticides that do not damage the environment but protects crops. They can work in medical treatment, cosmetic development and building material design too.
Where Does a Chemist Work?
The majority of chemists are employed by research institutes - private sector and government jobs. In the private sector, they will work in labs for pharmaceutical companies, in research, and in life sciences, engineering and physical science. This covers a very broad scope but we will see most graduate in this area employed in quality control - again for pharmaceuticals and even for cosmetics and toiletries, and cleaning products.
In industry, they may design new compounds and materials or work on improving existing products based on feedback. Chemicals are the most natural thing in the universe, they are the very building blocks of life and chemists are at the forefront of examining these building blocks.
In heritage, their understanding of chemical properties mean there are openings in conservation and restoration. Their understanding of chemical makeup of the atmosphere also makes them ideal employees for using absolute dating methods such as RC dating.
Elsewhere, they may work in forensics for law enforcement agencies, examining smaller elements of the crime scene that require such specialization. They can work with and for environmental organizations, examining the impact that certain chemicals and compounds can have on wildlife and the environment. They will also be present in cases of pollution to determine what compounds were used and what the long-term effects may be. Consequently, they may be called upon to provide evidence in criminal cases.
<!- mfunc search_btn -> <!- /mfunc search_btn ->
What Is the Average Chemist's Salary?
As of May 2020, the median salary for chemists was $80,680. The lowest 10% earned a about $54,810 and the highest earned over $165,290. According to the statistics, the federal government came out as the highest payers with a median of $116,990. R&D in physical and life sciences (including engineering) came out second at $92,410. Lab workers earned around $59,380, making it the fifth highest paying industry for chemists.*
Chemistry Jobs & Job Description
Recent Chemistry Job Listings
Use the search box below to find all the chemist job listings in our job board.
Chemists are scientists who perform laboratory tests to learn about the interactions between different chemicals and chemicals' impact on the environment. Sometimes independent, and sometimes as part of a corporation's research team for applied knowledge, the following tasks fall within the scope of a chemist's job:
Assist other chemists and assists to tabulate inventory of standards, tubes and chemical assets
Manage client requests for information about interactions and processes
Work as a member of a professional research team to achieve lab or client outcomes
Demonstrate ethical values while performing work and having interactions with others
Work in accordance with regulatory and health and safety standards
Interpret data and apply decisions to own workflow
Receive, log, and label samples
Prioritize tasks and workflow effectively
Recognize more complex issues and consult with others as necessary
Keep careful track of lab notebooks, specifications, technical test methods and data sets
Research chemical formulations and raw material properties
Make adjustments to batches of tests
Rectify any chemical stability issues that may arise
Formulate usage claims and other consumer information
Receive and validate incoming raw material
Operate lab equipment and instruments with a strong bias toward safe operations and procedures
Think independently and on a broad scope in order to make new connections with existing information
Independent thinker with the ability to "connect the dots" across previously unconnected ideas to create a new combination of ideas
Recognize and seize opportunities and convert those opportunities into workable ideas
After 3-5 years' experience, individuals may apply for positions as a team lead or senior chemist. While the roles are the same, there is an expanded leadership capacity that requires professional insight and leadership ability. Any senior chemist should be comfortable with the following duties:
Develop and manage a working relationship with customers
Acquire an understanding of administrative and client needs
Apply technical competence to generate innovation for research and business solutions
Evaluate new materials and technologies for development
Provide updates on research and development; lead team decisions
Create and maintain all necessary documentation to develop and commercialize products
Approve product specification and procedures as required
Request, document and inventory incoming raw material
Perform analyses of existing products on the commercial or industrial market
Identify and propose solutions for manufacturing issues
Source and qualify alternate sources for raw materials
Support chemical and product production with the aid of the process engineering team
What Is the Job Demand for Chemists?
Demand for chemists and other material scientists is projected to grow around 6% between 2020 and 2030. About 9,100 openings in the field are expected every year during this period.*
Chemistry is still a highly-sought qualification right across the board. The majority of new entrants will work in R&D in anything from pharmaceuticals, cosmetics and technology. There is a recognized skills shortage in chemistry so new entrants can expect little problem in applying for a role in their chosen career path.
<!- mfunc search_btn -> <!- /mfunc search_btn ->
What Are the Education Requirements to Become a Chemist?
The majority of chemist jobs are open to candidates with a BA/BS degree, particularly in lab technician roles or equivalent. When studying a BA/BS, it is vital that you study minors and electives in math, statistics, physics and other material sciences. An internship is advisable, especially if you prefer not to continue your studies towards a master's degree. Significant practical experience will be required for some jobs in lieu of a master's.
A master's is certainly advisable and this will give you an advantage if you want to work on the most important projects and programs in industry, and particular for government jobs. For teaching roles or for managing your own projects, a doctorate is vital. At any level, you are advised to gain practical working experience at an organization relevant to your intended chosen career path.
Chemistry - Related Degrees
<!- mfunc search_box_body ->
<!- /mfunc search_box_body ->
What Kind Of Societies and Professional Organizations Do Chemists Have?
Chemists have a number of options as far as professional bodies are concerned.
ACS: American Chemical Society releases a number of publications, present career advice and support for the nation's community of chemists and chemical researchers. They support a number of research programs every year
AICHE: The American Institute of Chemical Engineers is for those who work in chemical engineering. They were formed in 1908 to distinguish the growing field of chemical engineering as different from the profession of chemistry
AIC: The American Institute of Chemists were founded in 1923 and since 1926 have recognized excellence in chemistry by bestowing gold medals for those making a contribution to the field each year
*2020 US Bureau of Labor Statistics salary figures and job growth projections for chemists and material scientists reflect national data not school-specific information. Conditions in your area may vary. Data accessed September 2021.