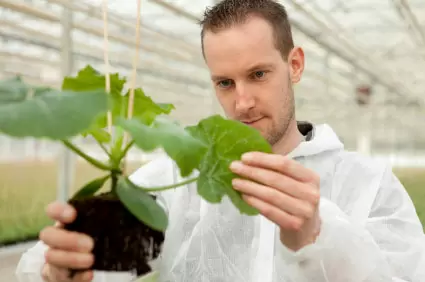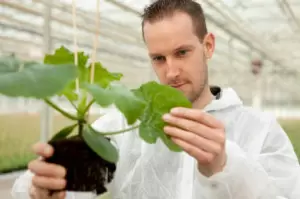 Plants are vital to all life on earth. They convert light from the sun into energy we can eat, and even use for fuel. They also release the oxygen we breathe. Botanists study plants to try to understand how these processes work. Their research is involved in enhancing crops, developing medicines, cleaning up contaminated sites, and even powering our cars.
It's an exciting field on the cutting edge of the clean energy economy. It's also a profession for nature lovers. Some botanists study how plants relate to their natural communities. The work of these plant ecologists helps conserve endangered species and natural areas. Regardless of the specialty, we all benefit from their work.
Simply put, botany is the study of plants. While it may sound straightforward, botany includes the study of everything from algae to giant Redwood trees, from the microscopic level to the ecosystem level.
What Does a Botanist Do?
Botanists study various aspects of plants. For example, they may study their physiological processes such as photosynthesis at the molecular level, the evolutionary history and relationships of plants, or their current relationships with their environments.
They may focus on the agricultural applications of plants used for food, fiber, fuel, turf, and cover crops, studying their responses to stresses from pests, disease, and climate variations. They may also work on plant breeding to development hardier strains.
Plant ecologists study the relationships plants have with their environments, each other, and the wildlife communities to which they belong. Their work focuses on conservation of native species, reducing the invasion of non-native exotic plants, and improving the ecosystem services (like clean air and erosion protection) they provide.
Some botanists conduct experiments to enhance the yield, disease resistance, drought resistance, or nutritional value of crops. They may also develop environmentally safe ways to control weeds, diseases, and pests. Others study plant processes at the molecular level to find new uses for them as medicines, remediation tools, raw materials, biofuels, or fabrics. Some botanists study the effects of different types of pollution on plants. They use what they learn to advise policymakers and help protect endangered species and natural areas.
The important work of botanists is critical to environmental conservation. Their research helps determine how different plants may react to climate change, and how to protect native species from invasive ones. Agricultural botanists work at the front lines of the food crisis, and help increase supplies of medicines, fibers, and timber as well.
Learn more about botany: study of plants.
Where Does a Botanist Work?
Botanists work for seed companies, where they conduct research to enhance seed properties. They also work on genetic engineering or product development for biotechnology firms and pharmaceutical companies. Some work at museums, parks, and botanicals gardens. Others are employed as teachers at colleges, universities, and secondary schools.
Some work primarily indoors in laboratories and offices. Others botanists, such as those who work in remediation or agriculture, spend much of their time working outside. They may work in cities, near farms, or at wilderness areas. They typically work full-time, sometimes putting in more than 40 hours per week.
<!- mfunc search_btn -> <!- /mfunc search_btn ->
What Is the Average Botanist Salary?
Botanists, who fall under the broader BLS category of conservation scientists and foresters, earned a median salary of $64,020 as of May 2020.*
Botany Jobs & Job Description
Recent Botany Job Listings
Use the search box below to find all the botanist job listings in our job board.
Botanist careers focus on the usage, development, classification and monitoring of the Earth's plant life. Some botanists focus on teaching or fieldwork, while others enter either theoretical or - most commonly - applied research as there is still much that scientists do not know about the application of plant compounds to human life and health. This means that duties vary significantly from job to job, but the list below includes job duties found within a typical botanist's scope of work.
Review literature, research, and field work samples to stay current in the field
Record plant supply and usage
Plan plant resource development
Forecast and monitor plant usage and green mass increase/reduction over many years
Use predictive computer models to aid in analyzing the best ways to manage available biomass in a given region
Evaluate the effect of environmental and land-use on plant mass
Respond to biomass catastrophes like floods, droughts, fires, and super storms
Evaluate different methods for remediation
Ensure soil, air, and water quality are monitored and concerns are being met
Conduct or contribute to climate impact studies
Botanists with professional experience are often given a leadership role in the workgroup. Many times, this results in additional tasks like:
Planning and coordinating projects involving the analysis and evaluation of biomass and its uses and impacts on local and global populations
Assessing and reporting on the impact of soil or pollutants on plant mass
Assessing and implementing different ecological models in order to generate information or test theories
Ensuring that recordkeeping and data collection methods are accurate for field and lab work
Negotiating use of federally owned forest and green resources
Supporting team members' research
Establishing effective workgroup systems for communication and budgeting
Constructing funding and grant applications
Advising administrators and other stakeholders regarding botanical information
Providing consultation to external agencies, professionals, or researchers
Planning, organizing, and participating in outreach and advocacy programs
Designing and implementing team budgets, milestones, and benchmarks
Mentoring team members
What Is the Job Demand for Botanists?
The job demand for botanists is projected to increase by 7 percent between 2020 and 2030.*
What Botany Careers Are Available?
Botanists can work their way up to positions as laboratory directors, research unit supervisors, government or research section heads, and research vice presidents/directors at private companies.
How Do I Get a Botany Degree?
Botany-related positions generally require a bachelor's degree. Most botanists have degrees in botany, plant science, plant biology, or general biology. Students in these programs study mathematics, chemistry, physics, and biology. Courses in social studies and public affairs are also helpful for aspiring botanists interested in conservation issues. These degrees open up opportunities in entry-level positions as laboratory technicians or technical assistants. Many positions require a master's or doctoral degree. A Ph.D. is required for most teaching and research positions in colleges and universities.
Candidates with practical, hands-on experience will have the best job opportunities. Internships, volunteering, and summer work experience at parks, plant nurseries, farms, labs, and experiment stations can help you gain experience and a foot in the door.

Botany - Related Degrees
<!- /mfunc search_box_body ->
What Kind of Societies and Professional Organizations Do Botanists Have?
The Botanical Society of America encompasses all areas of plant biology. It holds an annual conference, publishes journals, offers awards and grants, provides training, and hosts a job board.
The American Society of Plant Biologists also holds conferences and publishes professional journals. It organizes local sections, as well as a section for Environmental and Ecological Plant Physiology. It also hosts a job board.
<!- mfunc search_btn -> <!- /mfunc search_btn ->
Other Recommend Resources
*2020 US Bureau of Labor Statistics salary figures and job growth projections for conservation scientists and foresters reflect national data not school-specific information. Conditions in your area may vary. Data accessed September 2021.