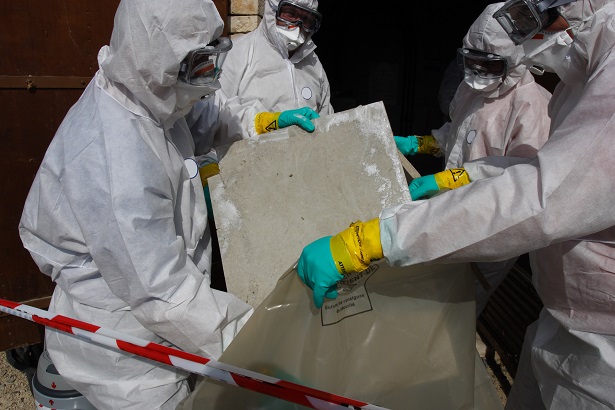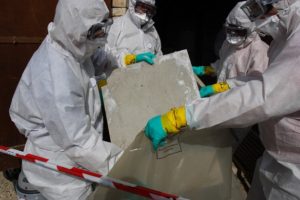 Asbestos Abatement Management is the identification of potentially hazardous and toxic waste as they pertain to human health. They are employed on construction sites, typically for demolitions and building remodeling, and in disposal plants.
What Does an Asbestos Abatement Manager Do?
During the 1960s-70s in North America, a large number of buildings were built utilizing a material called "asbestos". Asbestos is a fire-resistant silicate material used in wall linings; it had other uses too. During the 1970s, research revealed that it could have a bad effect on human health. The fibers have carcinogenic properties, and it has been known to cause mesothelioma (a specific type of cancer), lung cancer and asbestosis. As a result, it soon fell out of use as a fire retardant. However, there are many buildings still standing - most of these are safe in their present state. The problem is when the owner(s) wish to demolish the building, remodel it, or extend it. This is where an Asbestos Abatement Manager comes in. He or she is tasked with ensuring that the buildings and buildings management follow the correct procedure in asbestos mitigation - offering advice, putting equipment into place and ensuring good practice. They also handle the disposal of other toxic materials such as lead.
Where Does an Asbestos Abatement Manager Work?
Typically, they will work as freelance consultants or on a per-contract basis. For those who are in regular employment, they will mostly work in construction. This ongoing industry will always need people with qualifications in industrial toxicology. They may work on building sites for industrial, commercial or residential sites - though most buildings using asbestos in the 1960s and 1970s tended to be commercial or public properties due to the high volume use. They may work in an advisory capacity or on-site during construction work.
Advisory work may include recommending safety apparel and industrial equipment such as vacuums that remove asbestos from the air and which chemicals and special scraping appliances to use to remove paint from walls when it contains lead.
They can also work in specific waste management and disposal at plants dedicated to accepting and neutralizing such material, either by diluting, burying or recycling. Chemical processing is a hazardous job and pays higher than most other construction jobs. Most are full time employees and some, where employed by Federal government for disaster relief, can be expected to be on call or be available for overtime at a moment's notice.
<!- mfunc search_btn -> <!- /mfunc search_btn ->
What Is the Average Asbestos Abatement Manager Salary?
Asbestos Abatement Management is a division of hazardous material removal technicians. Some specialize in toxic materials in the manufacturing process, others in construction, and others still in disposal of radioactive material.
The median salary across the country for this job area is $45,270. Those in construction earn one of the highest median salaries, at $45,830. Those in waste management earn a median salary of $45,370.*
Asbestos Abatement Jobs & Job Description
Recent Asbestos Abatement Job Listings
Use the search box below to find all the asbestos abatement manager job listings in our job board.
Asbestos abatement managers facilitate all aspects of the removal of asbestos-containing materials from buildings, or engage in other practices that will eliminate exposure of asbestos. While jobs vary from building to building, the asbestos abatement manager will encounter many of the following tasks during their work:
Clean up construction sites by removing asbestos from surfaces
Assemble scraps and placing into specialized compartments and vehicles for removal
Seal the area to prevent contamination of natural resources and adjacent areas or buildings
Remove and dispose of asbestos material
Remove and dispose of lead paint
Follow project plans and adhere to benchmarks while maintaining a high degree of individual and plant safety
Verify tools and procedures for the job at hand
Maintain compliance readiness in all areas of regulatory requirements
Maintains 100% 'safety standards and accountability' in all areas of mandatory/regulatory requirements.
Reports and addresses all potential safety concerns/incidents/issues promptly
Maintains and demonstrates a proficient working knowledge of all response-related equipment, policies, procedures and tactics at all times
Senior asbestos abatement managers are often chosen for the role due to their maturity and breadth of professional experience. The role is similar to their junior counterparts but may include the following tasks:
Evaluate and provision materials, tools, and personnel for upcoming jobs
Remain up to date with the rules and regulations of the U.S. Environmental Protection Agency and Occupational Safety and Health Administration
Operate light and heavy equipment such as pumps, vacuum equipment, oil spill boom, generators, air compressors, bobcats, excavators, and forklifts
Possess excellent written and oral communication and interpersonal skills
Interact effectively with all stakeholders
Properly maintain, care for and secure assets and equipment
Supervise multiple projects and worksites at one time
Evaluate and approve Work Plans and site Health and Safety Plans (HASP) on assignments and projects
Develop, lead and participate in training courses, specifically those directed toward occupational safety and environmental regulations
Mentor staff
Support field work and work groups in a technical, interpersonal, and administrative capacity
What Is the Job Demand for Asbestos Abatement Manager?
Between 2020 and 2030, job demand is expected to rise by 7%.* As the majority of jobs are tied to construction, how many are actually taken on will depend on the economy and the growth of the construction industry. Other factors include the extent to which older asbestos and lead containing buildings are redeveloped or demolished. State and Federal government will always retain employees with this experience in the result of the need for clean-up work.
What Are the Education Requirements to Become an Asbestos Abatement Manager?
For most entry-level jobs, a High School diploma is all that will be needed. However, they will need to complete on-the-job training that will require education in Occupational Safety & Health Administration; once complete, they will (in some cases and in some states) need to be fully licensed before they can work with hazardous materials in practice.
Most of the training will take place on the job. A degree is not necessary in most cases, however a background in chemistry or public health would be helpful for more advanced roles should the candidate wish to seek promotion or executive roles later.
Asbestos Abatement - Related Degrees
<!- mfunc search_box_body ->
<!- /mfunc search_box_body ->
What Kind Of Societies and Professional Organizations Do Asbestos Abatement Managers Have?
Asbestos and hazardous material abatement is a critical area of construction and pollution abatement. There are several useful resources and organizations.
EPA: The Environmental Protection Agency is the largest environmental organization of its kind in the USA. Part of their remit is to oversee asbestos mitigation and provide information to home owners and construction managers with information on mitigation.
AIHA: The American Industrial Hygiene Association is the largest body of its kind in the world. Formed in 1938, they are a professional organization dedicated to maintain the highest possible quality standards for industrial hygiene - including the treatment of toxic materials.
ARCA: The Asbestos Removal Contractors Association is Europe's largest association for asbestos removal professionals, ARCA is based in the UK and represent the largest body of people who work with toxic materials. They provide training courses, information and a large resource of accredited personnel listed.
*2020 US Bureau of Labor Statistics salary figures and job growth projections for hazardous materials removal workers reflect national data not school-specific information. Conditions in your area may vary. Data accessed September 2021.
<!- mfunc search_btn -> <!- /mfunc search_btn ->